Ngandong Beach in Gunung Kidul Regency, Yogyakarta Special Region
---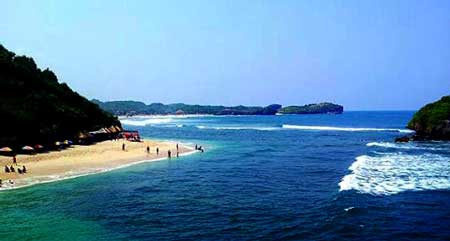 Perhaps tourists won't run out of vacation places when they visit Gunung Kidul Regency. The best allure is the formation of southern beaches, including the one called Ngandong Beach. This one is located in Sidoharjo Village and belongs to Tepus Sub-District. Even though the popularity is inferior to Kukup, Baron, Indrayanti, and Krakal Beach, it has a distinct allure that tourists can enjoy. In terms of accessibility, the beach is considered secluded, though. It is because the gate or entrance is hidden. As for the tip, tourists can get to Sundak Beach first. From that area, they can simply walk to Ngandong by walking, which takes about 5 minutes.
The Nuance
Despite the seclusion, the beach offers a perfect serenity. It also comes with several astonishing natural attractions. For instance, the beach has a white sandy shoreline with its soft texture. Some types of plants also grow beautifully, especially Cemara Udang trees. Under these trees, tourists can find some benches and huts to relax! As for the sea, it is considered safe for swimming. The fact is the beach is flanked by two coral cliffs. That means big waves won't reach the shore, so everyone can enjoy swimming in a safe manner.
Exploring Ngandong Beach
Beach walking or exploration becomes the prime tourist activity in Ngandong Beach. Thanks to the soft texture. The beach is comfy enough for an exploration and everyone can walk on the shoreline barefoot. For the information, the best area to explore is on the edge of the shoreline where a beautiful hill is located. Tourists often climb the hill and enjoy both sightseeing and photography up there. From that spot, everyone can also see a neighboring beach called Sundak.
The next recommended activity to do in Ngandong Beach is definitely riding a fishermen boat. Unlike Sundak Beach, this one becomes local fishermen's favorite spot to drop by and look for fishes. Thus, tourists are allowed to rent the boat and ride it along with the owner. Getting around the sea by traditional boat would be a good experience, no? As an alternative, tourists only need to take photos of parked boats on the shoreline.
Ngandong Beach also features some eateries where tourists can get delicious seafood and other traditional foods. Even the beach comes with a fish auction center and inns. Also, as mentioned before, the beach is safe enough for swimming. Despite the fact, it is only recommended to swim during the low tide. After that, before going home, everyone should consider dropping by in Sadranan Beach.
Nearby Attractions

Jawara Snorkeling
Sadranan Beach
Watalawang Island
How to Get There
The prime destination is none other than Yogyakarta City. For those coming from Jakarta, they must take an airplane at Soekarno – Hatta International Airport and head to Adisucipto Airport directly. Usually, this flight may take around 1 hour and 10 minutes. Once arriving at the airport, they can simply take Nasional III Street and head to Gunung Kidul Regency. The distance is 44.8 km, so this trip would take around 1 hour and 9 minutes. From Gunung Kidul, tourists only need to take Tepus Street and head to Ngandong Beach right away. This time, the trip may spend about 39 minutes, as the distance is 18.5 km.
Where to Stay

Sundak Inn
Griya Mutiara Lodging
Cordella Inn