Mbirit Beach in Gunung Kidul Regency, Yogyakarta Special Region
---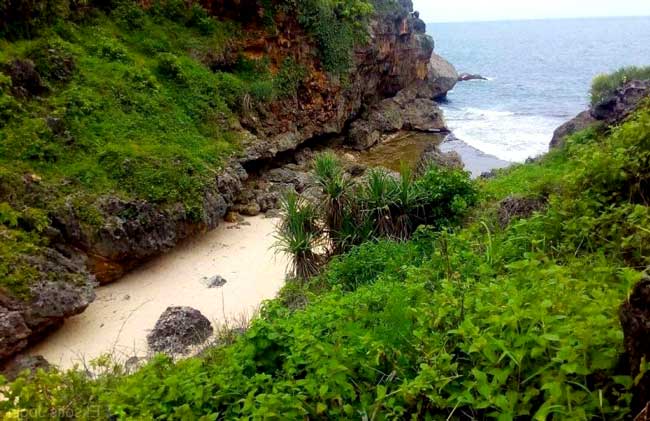 Exploring nature and beautiful beaches would help everyone to relieve their stresses and find a new experience. The only consideration is where tourists must spend the vacation, actually. In this case, Gunung Kidul Regency of Yogyakarta Special Region can be a choice. The region is known for both the highlands and exotic beaches, in fact. Here is the reference. There is Mbirit Beach in Sapto Sari Sub-District. To be exact, this astonishing beach is located in Krambil Sawit Village. Also, it is neighboring to Butuh Beach, which is located in the west. Due to this close distance, tourists can explore two beaches during the same day, therefore.
The Nuance
Mbirit Beach is commonly known for its seclusion. In order to reach the shoreline, after all, tourists should pass through a hill and challenging route. The size is small and it is flanked by two big cliffs. Lots of coral reefs are also seen in that area. The good thing is that tourists are able to climb the hill and witness stunning views up there. From that viewing area, a grassy landscape and some bushes welcome everyone. As for the sea, it is similar to other southern beaches', featuring big waves and strong wind. Unfortunately, the beach is not suitable for swimming. Another disappointment is that visitors won't be able to witness either sunrise or sunset due to the big size of cliffs.
Exploring Mbirit Beach
The first thing to enjoy in Mbirit Beach is definitely trekking. As mentioned above, visitors need to pass through a hill in order to get to the shoreline. Despite the tiredness, the reward is quite satisfying. A green grassy landscape and refreshing air would welcome everyone. Not to mention the panorama looks great, offering beautiful sea scenery and fierce waves. On this hill, tourists also have the chance to take photos or enjoy photography.
Once arriving at the shoreline, tourists can see a short shoreline that features both sandy and rocky landscape. The shoreline is suitable for beach walking and photography. Here is the tip. Tourists should head to the east part of the cliff. That spot has a more refreshing atmosphere and becomes a better place for relaxation, after all. Those who carry a fishing rod can also conduct fishing on some fishing spots (especially near to coral reefs).
Another thing that tourists can enjoy in Mbirit Beach is related to the peaceful nuance. That means the beach become a nice place for lessening or getting rid of stresses. The serenity is formed due to the seclusion and a low number of visitors. No wonder, tourists would feel like spending a vacation on a private beach.
Nearby Attractions

Ngrawah Beach
Ngobaran Beach
Wohkudu Beach
Kesirat Beach
How to Get There
Tourists' first destination is indeed Yogyakarta City. For outsiders, they can take advantage of an airplane to get to the destination. Here is an example. A flight from Soekarno – Hatta International Airport (Jakarta City) to Adisucipto Airport would take around 1 hour and 10 minutes. Once arriving at the airport, the next destination is Gunung Kidul Regency. This can be done by taking Nasional III Street, actually. The distance is 44.8 km, so the trip may take around 1 hour and 9 minutes. From Gunung Kidul, they should take Raya Panggang Wonosari Street and head to Mbirit Beach right away. The location is in Krambil Sawit Village and the distance is 33.8 km. That means this trip may take around 58 minutes.
Where to Stay