Tegalrejo Waterfall in Gunung Kidul Regency, Yogyakarta Special Region
---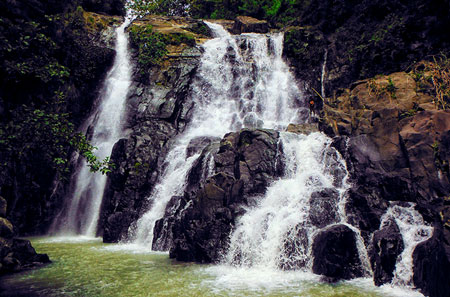 Some beautiful waterfalls can be found in Gunung Kidul Regency and all of them are interesting. One of the best choices is definitely Tegalrejo Waterfall. The official name is Curug Indah Tegalrejo and it is named after the location, which is at Tegalrejo Village of Gedangsari Sub-District. Some people also call it Curug Bayat! Even though visitors don't need to pay the entrance fee, they must pay the parking fee, especially those who come with a private vehicle. From the parking area, it requires short trekking too for about 5 minutes.
The Nuance
It is true that the accessibility is considered challenging. In order to get to the site, in fact, tourists must pass through a rocky and slippery pathway. Not to mention they should pass through a river. Have no worries. Despite the difficulty, tourists would be astonished once they arrive on the site. The waterfall has several water discharges with a different size. Beneath them, there is a refreshing natural pond for bathing and swimming. Many local kids are often seen, as well. They play water and swim in the natural pond happily. For the information, the waterfall also features rocky cliffs where the water goes down beautifully on it.
Exploring Tegalrejo Waterfall
The first impressive feature of Tegalrejo Waterfall is none other than the layers. In fact, it has 3 levels and features a different beauty. For those who love challenges, in this case, they should climb the cliff and get to the top of the level. Both the nuance and views look wonderful up there. This spot is also suitable for sightseeing and photography! However, everyone should be careful when climbing or walking to the top of it.
The next allure is the presence of beautiful rocks that surround the area. Some of them are hollowed and look like limestone! No wonder, many people would take photos of these rocks when spending some time in Tegalrejo Waterfall. The cleanliness and pristine nuance also become two famous things to enjoy there. Plus, the atmosphere is quite serene, which is suitable for relaxation and getting rid of boredom. The only rule is related to the environment. Visitors are not allowed to litter, especially those who carry foods and drinks.
Another thing that tourists can enjoy in Tegalrejo Waterfall is the natural pond. Visitors can simply sit by the pond and witness the beauty. Moreover, it is safe enough to enjoy swimming or bathing in it. The lush green trees also improve comfort during bathing. One thing, parents should pay attention to their kids while playing in the water. It is because the natural pond is considered deep.
Nearby Attractions

Green Village Gedangsari
Yohnan Waterfall
Watu Kerep
Puncak Tugu
How to Get There
From Jakarta City (Soekarno – Hatta International Airport), a flight to Adisucipto Airport usually takes around 1 hour and 10 minutes. After arriving at the airport, tourists only need to take Nasional III Street and head to Gunung Kidul Regency. This trip usually takes around 1 hour and 9 minutes, as the distance is 44.8 km. Next, they should take Karangmojo Semin Street and head to the waterfall right away. The distance is 39.9 km, so this trip may take about 1 hour and 9 minutes.
Where to Stay

The New Orlinds Guesthouse
The Giant Frog Cabins