Rancang Kencono Cave in Gunung Kidul Regency, Yogyakarta Special Region
---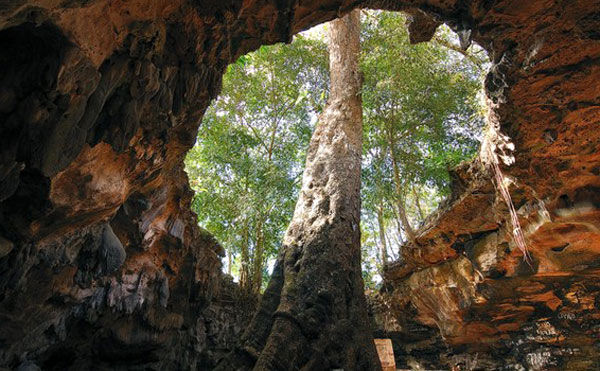 Once tourists arrive at Gunung Kidul Regency, they would find many vacation spots especially natural attractions. As for the reference, there is Rancang Kencono Cave in Playen Sub-District. The exact location is in Bleberan Village and it resides on karst mountain area. Aside from the seclusion, the cave offers other things to visitors including mystery and history. No wonder, most visitors are those who love an adventure and legend. However, it requires short trekking in order to get to the site. Plus, it is recommended to hire a local guide in order to get thorough information and history regarding the cave later.
The Nuance
For the information, Rancang Kencono is a vertical cave and it resides in a karst mountain. It is said the cave has been there since the Megalithic era. Also, people who lived during the reign of Mataram Islam Kingdom and post-independence era used the cave for different purposes. No wonder, the atmosphere feels both mystical and historical. The site features a parking area and toilets! Thus, it is considered comfy and well-maintained. The entrance of the cave is big and it features stairs to get down the cave. In the midst of the entrance, a big tree resides! What a unique feature!
Exploring Rancang Kencono Cave
Tourists would be able to find the entrance right away due to the presence of a giant tree. This spot usually becomes a visitors' favorite place to conduct photography and selfies! Thus, everyone should consider carrying a camera when heading to the cave later. Actually, the locals call it Klumpit Tree. These people also often come near to the tree for giving some offerings. They consider it sacred, after all. Next, visitors would find permanent stairs there. This explains why tourists can get in the cave easily.
Aside from photography, people who visit Rancang Kencono Cave usually enjoy caving or exploration there. According to the locals, the cave has three main chambers. The first one is none other than the entrance. The second chamber has moderate size and it offers a damp ambiance. As for the third main chamber, it is both the deepest and narrowest. That means tourists need to use a flashlight in order to explore this one. Despite the difficulty, this chamber offers beautiful stalagmites and stalactites!
As mentioned earlier, everyone must consider hiring a local guide who can tell both information and history related to the cave. In terms of name, "Rancang" means a plan while "Kencono" means gold. Only the locals can tell the exact meaning behind the name, though. Therefore, all visitors should talk to villagers about it later.
Nearby Attractions

Sri Gethuk Waterfall
Lepo Dlingo Waterfall
Watu Layah
How to Get There
For outsiders, they should take an airplane in order to get to Yogyakarta City. From Jakarta City, in this case, the flight would take around 1 hour and 10 minutes. Tourists only need to get an airplane service at Soekarno – Hatta International Airport and head to Adisucipto Airport right away. From the airport, they should take Nasional III Street and head to Gunung Kidul Regency. The distance is 44.8 km, so this trip may take around 1 hour and 9 minutes. From Gunung Kidul, tourists should take Playen Paliyan Street and head to Rancang Kencono Cave. This time, the trip may take around 42 minutes, as the distance is 25.5 km.
Where to Stay

Griya Limasan
The Giant Frog Cabins