Pok Tunggal Beach in Gunung Kidul Regency, Yogyakarta Special Region
---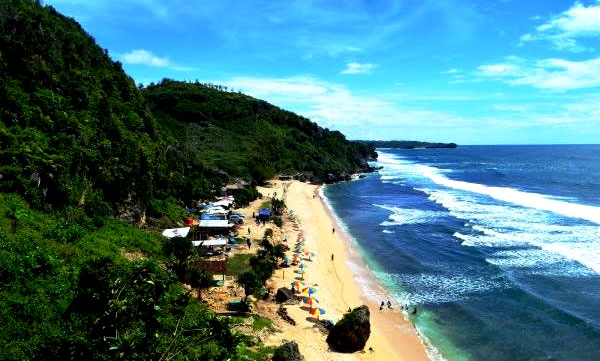 When exploring Gunung Kidul Regency, tourists should drop by in some beautiful beaches like Pok Tunggal. The beautiful sea scenery awaits everyone there. Even though tourists need to pass through a difficult and uncomfortable route, they would be astonished by the beauty once arriving on the site. The prime charm of the beach is definitely the safe waves, which are suitable for swimming. Unlike other southern beaches, Pok Tunggal has calmer waves! Plus, the beauty is similar to that of Kuta Beach in Bali Province! There are some differences, though.
The Nuance
Well, in terms of nuance, Pok Tunggal Beach has many attractive features. First, it is the exotic light brown sandy shoreline. The texture is soft and the appearance is astonishing. That means tourists can even explore the shoreline without footwear. The next noticeable feature is the formation of Duras trees that grow abundantly on the shoreline. Thanks to the locals. They take good care of these trees. No wonder, these people would prohibit tourists or visitors to climb the trees or do any harmful things to them. So, what is more? The next feature is definitely the moderate waves. They are safe for swimming, as long as everyone does it carefully. Next, another feature is the presence of beach umbrellas installed on the shoreline. Tourists can even use these freely!
Exploring Pok Tunggal Beach
Some people may wonder regarding what they can do in Pok Tunggal Beach. When it comes to popularity, the best thing to do is photography. It is because the beach has many good things to capture, including the waves and Duras trees. For example, tourists can simply stand in front of those trees and take selfies! As an alternative, they must reach the nearby cliffs and take some photos there.
The presence of cliffs makes Pok Tunggal Beach looks more astonishing indeed. According to the locals, these cliffs have a height of about 50 meters. Those also create a secluded atmosphere and protect the beach from the outside world! Not to mention these cliffs are suitable for rock climbing! Thus, those who love the sport should not miss the chance to do so. They only need to find the right spot to do the activity, after all. Plus, it is recommended to carry the right equipment.
Sometimes, several monkeys can be seen on those cliffs. They usually gather in the east part of the shoreline! Located near to that area, there is a freshwater fountain! The locals often take advantage of the water for cooking and other daily uses, in fact. As for tourists, they can simply relax by the fountain or take a photo of it. Later, at night, it is recommended to explore the shoreline and conduct beach walking (which considered more soothing than at other times).
Nearby Attractions

Watulawang Beach
Watunene Beach
Seruni Beach
How to Get There
Before heading to Pok Tunggal Beach, tourists must reach Yogyakarta Special Region first. From Jakarta City, in this case, they should take an airplane at Soekarno – Hatta International Airport and head to Adisucipto International Airport in Yogya. Usually, this flight may take around 1 hour and 10 minutes. After arriving at the destination, tourists should take Nasional III Street and head to Gunung Kidul Regency immediately. The distance is 44.8 km, so this trip would take about 1 hour and 9 minutes. From Gunung Kidul, their next destination is Pok Tunggal Beach at Tepus Sub-District. This trip may take around 44 minutes, as the distance is 19.6 km.
Where to Stay

Radika Inn
Joglowatukelir Inn