Kedung Kandang Waterfall in Gunung Kidul Regency, Yogyakarta Special Region
---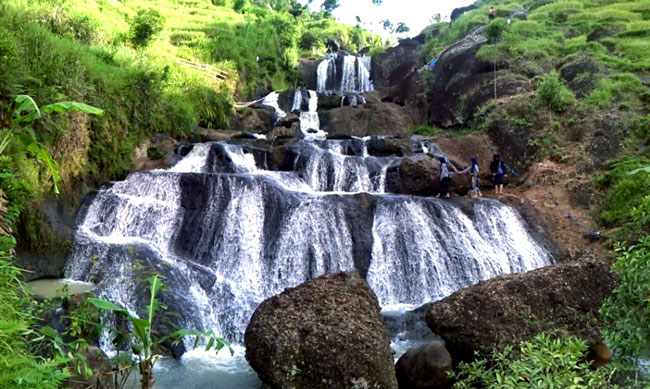 Featuring lots of beautiful natural attractions, Gunung Kidul Regency always becomes a nice destination to spend holidays. Even outsiders or tourists are also interested to visit the region! So, what can they enjoy? Waterfalls are a good choice. For instance, there is Kedung Kandang Waterfall in Patuk Sub-District. This stunning and majestic waterfall resides in Nglanggeran Village and located hidden on a highland. Also, it resides near to local farms. Both the beauty and serenity make it a perfect area to enjoy relaxation, sightseeing, photography, and exploration! Well, here is further discussion about it.
The Nuance
Kedung Kandang Waterfall is located in a hidden highland, so it offers a peaceful nuance. Also, visitors must conduct short trekking in order to reach the site. The waterfall has 6 levels and it resides near to local plantations. Not to mention it is flanked by beautiful green hills. Both clean and pristine environment also make the site more beautiful. As for facilities, tourists can only find local snack vendors and parking area at the nearby village. That means they won't find these on the site, where the waterfall is located. The distance between the parking area and the waterfall is around 900 meters, actually.
Kedung Kandang Waterfall
The fact is Kedung Kandang Waterfall is located near to a local village. Thus, visitors may meet some villagers or locals either at the entrance of the waterfall or on the site. Have no worries. These people are quite welcoming. A pathway that connects the parking area to the site is quite natural, though. That means it would be a little bit challenging and tiring to get to the location. The good thing is that tourists can enjoy beautiful panoramas while heading to the waterfall.
Once arriving at Kedung Kandang Waterfall, visitors may see some levels of water discharge. The size of each water discharge is considered short, but wide. Also, the flow is moderate. The next thing to notice is the presence of paddy fields and volcanic cliffs! These surround the site beautifully and often become a background for photography. Well, why are there volcanic cliffs? It is because the waterfall is located near to an inactive ancient volcano!
Even though the waterfall looks alluring for swimming and taking a bath, it is not recommended to do so. Why is that? The locals prohibit it due to various reasons. For example, it is to protect the waterfall from getting spoiled. Some locals also say that the waterfall is quite sacred! Here is another important info. Kedung Kandang is a seasonal waterfall. That means it only has beautiful water discharges during the rainy season. Thus, everyone should only visit it at the time.
Nearby Attractions

Gunung Jompong
Wanagama Museum
Banyunibo Waterfall
Watu Joglo Cave
How to Get There
A trip to Kedung Kandang Waterfall is considered easy. Tourists only need to get to Yogyakarta City first. For outsiders, in this case, an airplane is indeed the best choice. For instance, a flight from Jakarta City (Soekarno – Hatta International Airport) to Yogyakarta City would take around 1 hour and 10 minutes. From the airport, tourists can simply take Nasional III Street and head to Gunung Kidul Regency. The distance is 44.8 km, so this trip may take around 1 hour and 9 minutes. After arriving at Gunung Kidul, tourists can continue the trip by taking the same route. This time, the destination is Nglanggeran Village and the distance is 24.7 km. Thus, the trip may take about 41 minutes.
Where to Stay

The Giant Frog Cabins
The New Orlinds Guesthouse
Griya Limasan