Ngingrong Cliff in Gunung Kidul Regency, Yogyakarta Special Region
---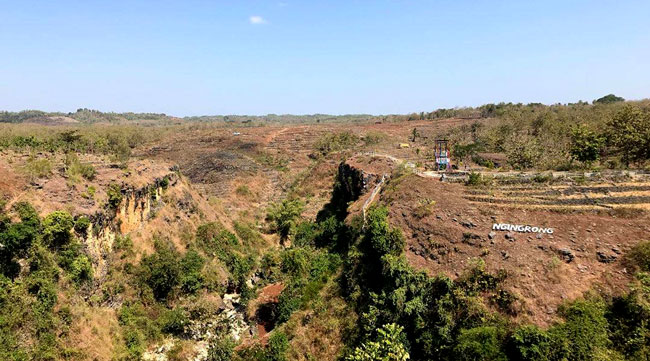 It is true that Gunung Kidul Regency is known for its beaches, but the region also has other attractive natural attractions, including Ngingrong Cliff. This one is indeed suitable for hiking, sightseeing, and photography! No wonder, the site is popular among trekkers, photographers, and those who want to enjoy relaxation. In terms of name, the locals also call it Tebing Ngingrong Lafadz Allah. The location is in Pancarejo Village and it belongs to Semanu Sub-District. Due to the growing popularity, the locals even have built several facilities and outbound arena there.
The Nuance
Well, when it comes to nuance, Ngingrong Cliff offers a refreshing ambiance and peaceful atmosphere. Many green trees and fertile plants grow in that area. The cliff is also surrounded by beautiful bushy hills! Still, as the name suggests, the most famous feature is the presence of a landscape that looks similar to Allah letter. Moreover, in a specific part of the cliff, there is a rock, having a similar shape of a praying person. What is more? The site features a flying fox facility for tourists to use, as well. All these features combine well and would give satisfaction to all visitors, no?
Exploring Ngingrong Cliff
The most common reason for visiting Ngingrong Cliff is indeed sightseeing. Tourists want to see the famous Allah letter directly. Not to mention they want to take photos of the unique rock! Actually, many other beautiful objects can be seen there and all of them become a nice background for photography, too. Moreover, while taking photos, tourists can enjoy trekking or hiking too. Have no worries. The landscape or route is considered easy.
What is more? The site is also known for the cave, where tourists can explore! In fact, two cave entrances are available and they are located in a different area. In the east cave entrance, for instance, tourists may find a beautiful underground river and waterfall. Once getting inside the cave, they would see beautiful stalagmites and stalactites, too. Also, visitors can enjoy other fun activities there including rappelling, rock climbing, and exploration. One thing, it is recommended to hire a guide who knows the site well.
Another thing that tourists can enjoy in Ngingrong Cliff is riding the flying fox. It is true that they must spend some money to use it. Still, it would be a worthy expense. In terms of safety, it is also superb. Not to mention some instructors are always available on the site. Tourists only need to talk to these people before using the flying fox.
Nearby Attractions

Jomblang Cave
Open Air Museum
Ratu Bilqis Swimming Pool
Telaga Mendak
How to Get There
For outsiders, the best way to get to Yogyakarta City is indeed by airplane. From Soekarno – Hatta International Airport in Jakarta City, in this case, a flight to Adisucipto Airport may take around 1 hour and 10 minutes. After arriving at the airport, tourists only need to take Nasional III Street and reach Gunung Kidul Regency. This trip usually takes around 1 hour and 9 minutes, as the distance is 44.8 km. From Gunung Kidul, the next destination is Pancarejo Village where Ngingrong Cliff is located. This trip would take around 16 minutes, as the distance is 6.2 km.
Where to Stay

The Mulyo Homestay
Orchid Inn Hotel
Tiyuk Homestay
Trysus Homestay