Wanagama Forest in Gunung Kidul Regency, Yogyakarta Special Region
---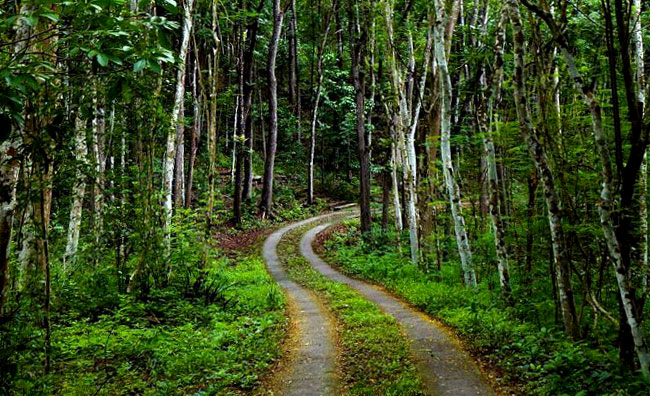 Featuring astonishing beaches and highlands, Gunung Kidul Regency always becomes a great place to spend a vacation (especially among nature lovers and adventurers). In fact, the region has lots of recommended places to explore. One of them is located in Playen Sub-District, which is called Wanagama Forest. The exact location is in Gading Village (located between Playen and Patuk Sub-District) and the forest is suitable to conduct exploration and adventure. Thanks to Oemi Han'in. He was the pioneer and turned barren land into a fertile bushy forest! Not to mention the forest is able to lure lots of tourists over time.
The Nuance
The forest was developed in 1964 and it offers a comforting nuance to visitors. While exploring the forest, tourists may find numerous types of trees, especially Akasia and Eucalyptus. Plus, the forest becomes the home of majestic pine and teak trees. What about fauna? The forest has become the home of various animals, as well. These include reptiles, primates, and poultry. Not to mention the forest features three rivers, including Banyu Tibo, Sendang Ayu, and Oya River. Another great thing is that the site comes with many facilities like outbound rides, suspension bridge, and much more!
Exploring Wanagama Forest
The prime purpose to visit Wanagama Forest is indeed for an exploration. Tourists would be astonished by the presence of various flora and fauna there. According to the locals, the forest holds about 550 types of plants! Still, only several species of animals live there. That means the forest is dominated only by trees and plants. Both the shadiness and comfort make it a perfect area for exploration and adventure, no? Have no worries. Tourists can also find a pendopo, which makes a suitable place for resting and conducting events.
Those who visit Wanagama Forest also take advantage of the site for outbound activities. The first object to visit is none other than the suspension bridge. The bridge is both sturdy and beautiful! While crossing it, tourists should use their camera and take some photos up there. After that, they can enjoy other fun things there including river tubing, flying fox, and riding jungle jeep. In order to enjoy these activities, though, everyone should carry enough cash. There is nothing like a free experience, after all.
Another common thing to do in Wanagama Forest is camping. It is true tourists are allowed to build a tent and spend the night there. Still, it is recommended to acquire permission from the keeper first. Also, everyone should carry their tent and other required equipment. Another consideration is related to the environment. No one is allowed to litter or spoil nature either during exploration or camping!
Nearby Attractions

Cempluk Kesamben Hill
Pelawan Cave
Sri Gethuk Waterfall
Watu Tumpeng
How to Get There
From Soekarno – Hatta International Airport (Jakarta City), tourists can simply take an airplane and head to Adisucipto Airport (Yogyakarta City). This flight usually takes around 1 hour and 10 minutes. Once arriving at Yogya, tourists should take Nasional III Street and head to Gunung Kidul Regency. This trip may take around 1 hour and 9 minutes, as the distance is 44.8 km. Later, from Gunung Kidul, they can take the same route and reach Wanagama Forest at Gading Village right away. The distance is 21.4 km, so this trip would take around 38 minutes.
Where to Stay

The Giant Frog Cabins
Bukit Indah Hotel
Kopilimo Homestay