Ngrumput Beach in Gunung Kidul Regency, Yogyakarta Special Region
---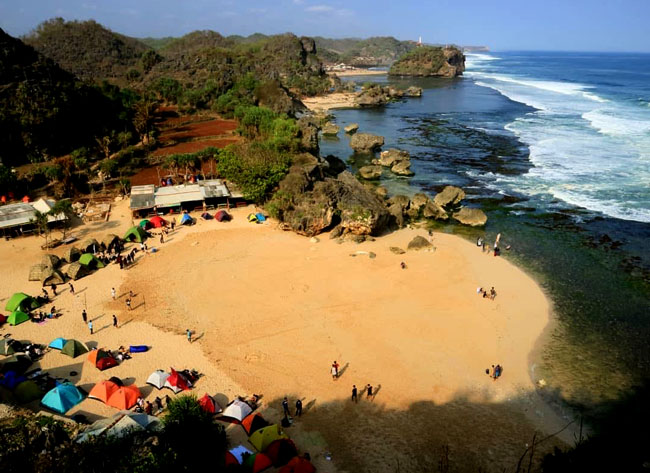 One of the most recommended beaches to visit when spending a vacation in Gunung Kidul Regency is Ngrumput Beach. Tourists only need to reach Ngestirejo Village at Tanjungsari Sub-District in order to get to the beach. Ngrumput is bordering directly with the Indian Ocean and it features numerous types of natural features. Not to mention the location is near to the famous Kosakora Hill, where tourists usually enjoy sightseeing and photography from that area. As for the beach, visitors can enjoy numerous activities. These include beach walking, taking photos, and exploration. However, swimming is prohibited due to the big and unpredictable waves.
The Nuance
Some people may wonder about things that make Ngrumput Beach is different than others. Well, in terms of nuance, it is peaceful. The shoreline's length is moderate and it features a soft-textured sandy landscape. As mentioned before, the beach connects directly to the Indian Ocean. This explains why the waves are quite fierce. Next, the beach features many types of natural allures including caves, cliffs, and hollow coral reefs! These objects indeed become a great background for photography. The color of the shoreline is brownish white and the surface is plain. No wonder, the beach is suitable for both exploration and beach walking.
Exploring Ngrumput Beach
Visitors can enjoy several activities in Ngrumput Beach. One of them is to conduct beach walking. The soft texture of the shoreline provides comfort to everyone's feet. That means tourists can explore the beach barefoot! For those who love exploration, in this case, they must reach in some parts of the shoreline where many cliffs reside. In this area, tourists would find a vast spot for camping and relaxation. Not to mention those astonishing cliffs are worth a photo shot!
Aside from beach walking and camping, people can enjoy other fun things in Ngrumput Beach. According to the locals, people keep coming in the afternoon for the sunset. This beach has a perfect location to watch such sun view, after all. Moreover, this can be done freely! For those who come for camping, though, they need to pay for the permit fee. Have no worries. The locals would use the money to take care of and maintain the beach, for the sake of cleanliness and
Here is the tip. Ngrumput Beach has the merriest nuance, especially during the New Year eve. Thus, everyone only needs to visit the beach at the time for the best experience. As an alternative, it is also good to visit the beach on regular days for a more peaceful ambiance. Don't forget to carry some cash, though. The money is useful to rent a tent, buy foods, and others.
Nearby Attractions

Nglolang Beach
Watu Kodok Beach
Puncak Kosakora
Drini Beach
How to Get There
For those coming from outside Yogyakarta City, they must consider taking an airplane to get to the destination. Here is an example. A flight from Soekarno – Hatta (Jakarta City) to Adisucipto Airport (Yogyakarta City) may take around 1 hour and 10 minutes. Once tourists arrive at the destination, they should take Nasional III Street and head to Gunung Regency first. This trip usually takes about 1 hour and 9 minutes, as the distance is 44.8 km. Next, from Gunung Kidul, they should take Pantai Sel. Jawa Street and head to Ngrumput Beach right away. The distance is 20.3 km, so the trip may take around 45 minutes or less.
Where to Stay

Kalpilon Indah Cottage
The Royal Joglo