Kayu Arum Beach in Gunung Kidul Regency, Yogyakarta Special Region
---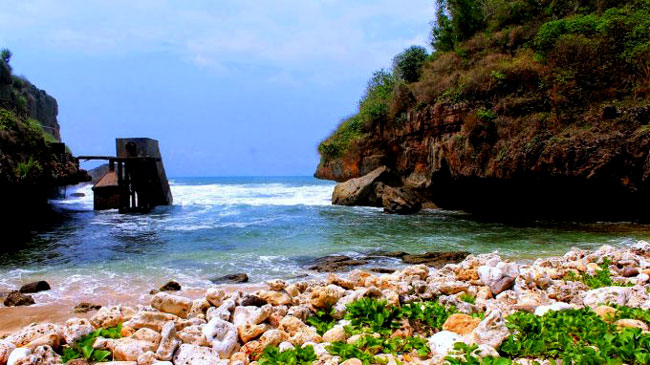 If tourists explore Gunung Kidul Regency, they may find many great beaches located in the south part of the region. In Sapto Sari Sub-District, for example, they would find Kayu Arum Beach. This beautiful beach resides in Kanigoro Village. The locals also call it Ngarum Beach. One thing that makes it different than other beaches is none other than the location, which is bordering with local farms. That means visitors can watch more than sea scenery, but also rural environments. Tourists usually come to the beach to enjoy relaxation, photography, sightseeing, and beach walking actually.
The Nuance
As mentioned before, Kayu Arum Beach is located near to local farms. Thus, tourists would find various landscapes once they arrive at the site. Aside from the view of farms, visitors may see a light-brown sandy shoreline that features a soft texture. In some parts of the shoreline, several coral rocks reside in a majestic way. Tourists often use these objects as their photography background. The environment is clean and pristine. The sea features big waves and strong wind, as well. As for the nuance, it feels peaceful due to the seclusion. As for the size, the shoreline's length is about 100 meters!
Exploring Kayu Arum Beach
Once getting near to Kayu Arum Beach, tourists may hear the sound of splashing waves right away. Those big waves hit coral reefs and make a soothing sound. Aside from that, the atmosphere feels more comfortable due to the warm wind and peaceful ambiance. At the entrance, visitors may find bushy plants and some beach trees, too. These, at least, add comfort and shadiness to the site. Thus, it is recommended to rest at this spot before exploring the beach later.
The real fun begins once tourists entering the shoreline. They would be astonished by the stunning landscape and comfy texture. This explains why beach walking is quite recommended to do. In fact, everyone doesn't need to wear footwear when exploring the shoreline! Thanks to the soft texture. Not to mention the size is considered vast, so tourists can explore it to their heart's content. One thing, the weather becomes hotter at noon. It becomes uncomfortable to some people, somehow.
Aside from beach walking, visitors can enjoy other things in Kayu Arum Beach. For instance, they must explore the beach during the low tide. The purpose is to watch small fishes clearly on the shoreline. What about swimming? Well, it is not recommended due to the big and unpredictable waves. Instead, tourists can do alternative activities like playing beach soccer and camping. Also, they should reach the east part of the shoreline where Dluwuk Cliff resides. This place is perfect to conduct photography and sightseeing.
Nearby Attractions

Dluwuk Cliff
Mboyo Beach
Peyuyon Beach
Pathuk Duwur Hill
How to Get There
Before reaching Kayu Arum Beach, tourists must head to Yogyakarta Special Region first. For outsiders, they can take an airplane to get to the destination. From Jakarta City, in this case, tourists can take an airplane at Soekarno – Hatta International Airport and head to Adisucipto Airport right away. During good weather, this flight only takes about 1 hour and 10 minutes, in fact. From Adisucipto Airport, tourists should take Nasional III Street and head to Gunung Kidul Regency immediately. The distance is 44.8 km, so the trip would take around 1 hour and 9 minutes. Later, from Gunung Kidul, they may continue the trip by taking Baron Street. The destination is Kanigoro Village where the beach is located and the distance is 23.3 km. That means the trip may take around 40 minutes.
Where to Stay

Bintang Baron Hotel
Baronsari Inn