Watu Giring in Gunung Kidul Regency, Yogyakarta Special Region
---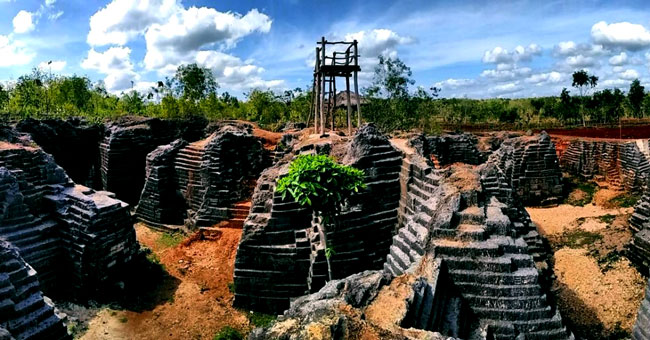 There is a unique new natural vacation spot in Gunung Kidul Regency. The name is Watu Giring and the location is in Sambirejo Village of Semanu Sub-District. This rocky site was formed by local miners and becomes a nice spot to enjoy photography and exploration. Due to the uniqueness, outsiders and foreigners are also interested to visit the site during holidays. In terms of appearance and atmosphere, it looks similar to that of Breksi Hill in Kalasan Sub-District. Instead of featuring big chunks of rocks and stones, the site has smaller ones. Thus, it becomes easier to explore.
The Nuance
Watu Giring consists of numerous unique natural features and it has a peaceful ambiance. The landscape looks like a megalithic heritage site and it even features stairs-like rocks! Thanks to local miners. They have arranged and formed those stones in a beautiful way. This explains why most tourists come to the site for photography. These people also want to explore this former limestone mining site! Well, even though the popularity is nice, the number of visitors is not many. Only some adventurers and photographers are often seen there. Some people even choose the site to conduct a pre-wedding photo session!
Exploring Watu Giring
Visitors can enjoy many things when visiting Watu Giring. For example, they can hear history related to the site. In this case, they must find a local guide or villagers who can tell the story first. It is said the site was once used as a limestone mining site. However, the locals abandoned it due to an unclear reason. Instead, local miners used their tools and created a beautiful rocky site there. It has many levels with a different height. Some of the landscapes even look like a small temple!
The unique appearance and nuance make Watu Giring is known among photographers. After all, most visitors' motive is to take photos of those stones. Another idea is to conduct a pre-wedding photo session on the hill. This should be done only during good weather, though. The good news is that tourists can do these things freely. There is no official keeper or management in that area, in fact. Still, it is recommended to hire a local guide who knows the site well. The purpose is to explore the location in a more efficient way.
The appearance also looks like Mayan Tribe's pyramid! This makes Watu Giring a popular object for photography. After taking photos of the site, tourists usually post the photos on their social media accounts. Thanks to this. The site becomes more famous among tourists. Later, after exploring the site and enjoy photography, tourists should drop by at nearby snack eateries to buy the famous culinary called belalang goreng (deep fried grasshoppers).
Nearby Attractions

Kalisuci Cave Tubing
Gandu Graveyard
Plenggruk Tourist Site
How to Get There
The prime destination is Yogyakarta City and tourists can get there fast by airplane. Those who come from Jakarta City, they can simply take an airplane at Soekarno – Hatta International Airport to Adisucipto Airport right away. This flight may take around 1 hour and 10 minutes or less. From Yogyakarta, their next destination is Gunung Kidul Regency and they should take Nasional III Street. This trip may take around 1 hour and 9 minutes, as the distance is 44.8 km. Next, they can take the same route and head to Watu Giring right away. This trip only takes about 14 minutes, as the distance is 5.7 km.
Where to Stay