Ngetun Beach in Gunung Kidul Regency, Yogyakarta Special Region
---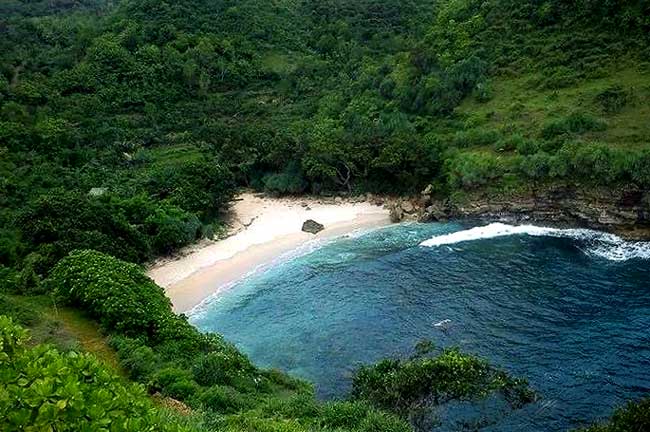 People who live in Gunung Kidul Regency should be proud of their region. One of the reasons is related to tourism. Lots of stunning beaches and other natural attractions can be found there, including Ngetun Beach in Tepus Sub-District. This beautiful beach is located in Purwodadi Village and is flanked by two tall hills. Some people also call it Ngitun Beach, actually. Also, the location is near to other popular beaches like Siung and Nglambor. As for tourist activities, this unspoiled beach is suitable for relaxation, sightseeing, photography, and spending a family recreation.
The Nuance
The first thing to notice once arriving at Ngetun Beach is definitely the serenity. The environment is clean and the shoreline features a soft-textured sandy landscape. As for the size, the shoreline is short and it is flanked by two hills. At a glance, it looks like a lonely small bay. The location is considered hidden, as tourists need to pass through lush trees to get to the site. As for the nuance, it feels secluded and peaceful! Some rocks are also seen on the shoreline. Still, the waves are big, so everyone should be careful when swimming.
Exploring Ngetun Beach
Ngetun Beach offers many allures to visitors. First, it is definitely the serenity. This ambiance helps people to get rid of stresses and find peace. No wonder, many people who live in a big city often dropped by in order to relieve their issues. The presence of hills even increases the beauty. Also, the atmosphere becomes soother since lots of trees and bushes grow abundantly in that area. Here is the tip. Tourists must climb the hill in order to get better views up there.
The white sandy shoreline with its soft texture becomes the next charm of Ngetun Beach. Even though the size is short, the shoreline is good enough for relaxation and beach walking. Tourists can simply sit on it while watching stunning sea scenery. In terms of appearance, it looks like Thailand's small beach! This hidden paradise is suitable to spend a family recreation, too, in fact. However, it is not recommended to get in the water due to big and fierce waves.
The next allure is the chance to witness a beautiful sunset in the afternoon. However, tourists need to find the right time to witness this astonishing view, which is in the dusk. When the night comes, tourists are even allowed to build a tent a enjoy camping on the beach! The beautiful starry sky and rejuvenating breeze of the night would accompany them there.
Nearby Attractions

Puncak Watu Gentong
Pok Tunggal Beach
Timang Beach
Jogan Beach
How to Get There
The prime destination is Yogyakarta City and the trip can be done in many ways. For those living outside the region, they can take an airplane to reach the destination. For the information, a flight from Jakarta City (Soekarno – Hatta International Airport) to Adisucipto Airport may take around 1 hour and 10 minutes. Later, once arriving at Yogyakarta, tourists should take Nasional III Street and head to Gunung Kidul Regency. This trip usually takes around 1 hour and 9 minutes, as the distance is 44.8 km. From Gunung Kidul Regency, tourists should continue their trip by taking Pantai Sel. Jawa Street. Their destination is indeed Ngetun Beach. Actually, the distance is 26.3 km, so this trip would take around 56 minutes.
Where to Stay

Radika Inn Paradise
Bambu Lengkung Inn