Nguyahan Beach in Gunung Kidul Regency, Yogyakarta Special Region
---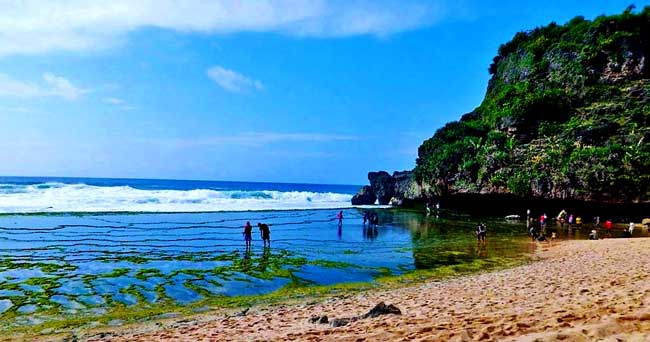 Sapto Sari Sub-District in Gunung Kidul Regency is known among tourists for its beautiful southern beaches. One of them is located in Kanigoro Village, which is called Ngunyahan Beach. This new tourist site is not as famous as other superior neighboring beaches, though. Despite the fact, visitors won't regret visiting the beach. Thanks to the beauty and serenity. Visitors can enjoy relaxation and sightseeing on the site. Another good benefit is that the beach is located near to Ngobaran Beach, so tourists can drop by to the neighboring beach either after or before visiting Ngunyahan.
The Nuance
In terms of nuance, Ngunyahan Beach offers a peaceful atmosphere. It is because tourists won't find many people or visitors there. What about features? The most noticeable one is the presence of a big bushy hill that resides on the edge of the shoreline. This hill protects the shoreline from big waves as well. No wonder some spots of the shore are shallow and feature calm waves. In fact, during the low tide, lots of corals and small sea creatures can be seen clearly there. Tourists can even play water safely!
Exploring Nguyahan Beach
Ngunyahan Beach offers lots of allures to visitors. One of them is definitely the sea scenery. The shoreline has a light brown sandy landscape with a soft texture. Thus, tourists can enjoy sightseeing while exploring the site comfortably. Moreover, the size of the shoreline is considered wider and longer than Ngobaran Beach. Aside from the sandy landscape, it features a coral landscape that appears during the low tide. When walking on this coral landscape, though, everyone should wear comfy footwear. It is because the corals are both sharp and tapering.
The next allure in Ngunyahan Beach is the safe waves. Thanks to hills that flank the shoreline. These keep big waves away from coming near to the shoreline, after all. That means visitors can play water and swim safely there. However, it is recommended to play water only during the low tide. At the time, they also have the chance to hunt small sea creatures like clamps, seaweeds, small fishes, algae, etc. Once again, the corals are sharp, so everyone must walk on it carefully.
According to the locals, Ngunyahan Beach is also known for the abundance of fishes. This explains why most visitors are local fishermen or those who love fishing. Tourists only need to carry a fishing rod and find the right spot to enjoy the activity. It is recommended to join the locals who know the site well, therefore.
Nearby Attractions

Ngobaran Beach
Pringjono Beach
Ngeden Beach
Dadap Ayam Beach
How to Get There
From Jakarta City, tourists should take an airplane at Soekarno – Hatta International Airport and head to Adisucipto Airport right away. During good weather, this flight may take around 1 hour and 10 minutes only. Once they arrive at Yogyakarta City, it is recommended to take Nasional III Street and head to Gunung Kidul Regency immediately. The distance is 44.8 km, so this trip would take around 1 hour and 9 minutes. From Gunung Kidul, they next destination is Kanigoro Village where the beach is located. The distance is 31.3 km and the best route to take is Paliyan Street. Thus, the trip may take about 54 minutes.
Where to Stay

Tiyuk Homestay
Orchid Inn Hotel
Bintang Baron Hotel