Taman Hutan Raya in Gunung Kidul Regency, Yogyakarta Special Region
---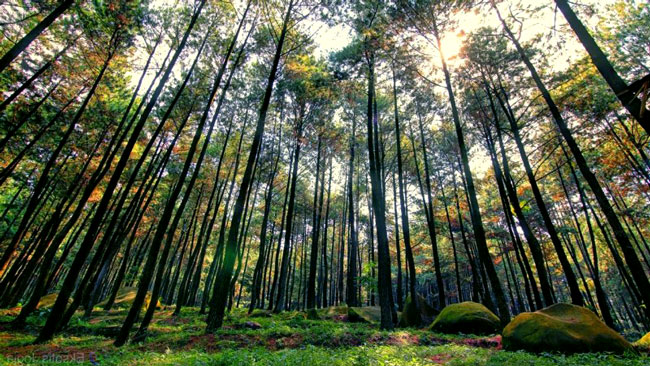 In Gunung Kidul Regency, tourists would find a famous vacation area called Taman Hutan Raya or Tahura. The location is in a conservation area of Bunder Forest! To be exact, it resides in Gading Village at Playen Sub-District. Not to mention it resides near to the famous Bunder rest area. As for tourism, the site is known among nature lovers and campers. Lots of local students often come to the location, too. The purpose is to watch numerous flora and flora that are kept in the forest. Outsiders and tourists also take advantage of the nuance for relaxation, in fact.
The Nuance
As people may expect, they would find lush trees and plants once arriving at Taman Hutan Raya. The nuance is pristine and the environment looks neat, as well. According to the locals, the total area is about 634 hectares and it becomes the home of various species of flora and fauna. Both the local and national researchers use this conservation area for their study, actually. Tourists can even find a deer breeding site, which has a size of about 6.2 hectares. The next famous feature is the presence of the Oya River, which is located in the midst of the forest. What is more? Visitors can also find Sendang Mole, an old eucalyptus refinery.
Exploring Taman Hutan Raya
It is true that most visitors come to Taman Hutan Raya in order to explore the nature. The location is close to Bunder rest area, so it becomes a nice place for resting and eradicating stresses. For the information, most visitors are students and they come to conduct a study. Other people also choose this area to build a tent and spend a night with either friends or family members. No wonder, this conservation area is known among those who love camping.
The next thing that tourists often do in Taman Hutan Raya is to explore Oya River. The river has become a part of the forest, after all. Both the appearance and size of the river are indeed quite amusing. After spending some time by the river, tourists can explore other parts of the forest. For instance, there is the deer breeding site. In that area, visitors are allowed to touch and feed the animals! They must get the permission first, though.
Another famous spot to visit is none other than the local eucalyptus oil refinery. Tourists can even watch the process directly, as well as to learn more about the commodity. After that, it is recommended to reach the best spots for photography. In this case, hiring a local guide would be a good idea. This service even may tell tourists regarding the right spot to take pre-wedding photos!
Nearby Attractions

Handayani Park
Taman Bunga Matahari
How to Get There
First, everyone should reach Yogyakarta City. They can get there fast by airplane, actually. For instance, a flight from Jakarta City (Soekarno – Hatta International Airport) to Adisucipto Airport may take around 1 hour and 10 minutes. After arriving at Yogyakarta City, tourists can simply take Nasional III Street and head to Gunung Kidul Regency. This trip usually takes around 1 hour and 9 minutes, as the distance is 44.8 km. From Gunung Kidul, they can simply reach Taman Hutan Raya by taking the same route. The distance is 31.6 km, so the trip takes about 50 minutes.
Where to Stay

The Giant Frog Cabins
The New Orlinds Guesthouse
Kopilimo Homestay