Embung Batara Sriten in Gunung Kidul Regency, Yogyakarta Special Region
---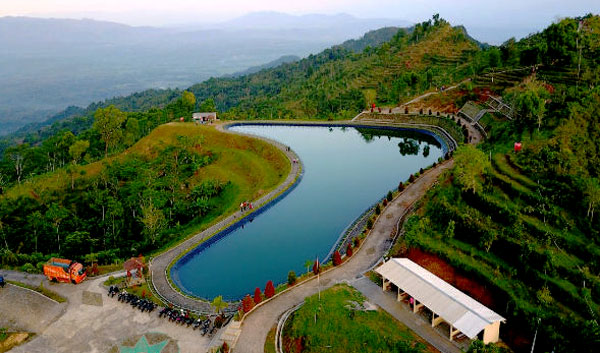 A beautiful man-made lake resides in Gunung Kidul Regency and it has become another tourist site there. The name is Embung Batara Sriten and it is located in Nglipar Sub-District. To be exact, the lake resides in Pilangrejo Village! Also, it is located on Batur Agung Hills, which makes it the highest lake in Yogyakarta Special Region. The presence of this lake helps to increase the region's popularity in terms of tourism. It also becomes a nice place to spend a family recreation and enjoy water activities. The location also makes it suitable for sightseeing and relaxation, in fact.
The Nuance
As mentioned earlier, Embung Batara Sriten is located on a highland. This explains why the nuance is both comfy and refreshing. Not to mention the views look wonderful up there. Once tourists arrive on the site, they may see the green forest on the horizon as well as the famous Jombor Swamp. Another recognizable panorama is definitely Waduk Gajah Mungkur! These objects indeed become a great background for photography, no? As for the lake, the water appears milky and it features nice facilities like benches, gazebos, plants, and trees. The number of visitors is considered low, so the atmosphere feels peaceful there.
Exploring Embung Batara Sriten
The first thing to enjoy when visiting Embung Batra Sriten is sightseeing. The location is on a highland and the lake offers numerous types of astonishing panoramas. Aside from watching those beautiful views, tourists have the chance to collect great photos too! Therefore, it is recommended to carry a camera when heading to the location. Have no worries. The landscape is comfy enough for exploration. Thus, tourists don't need to spend much stamina get difficulty when exploring the location while enjoying photography.
When it comes to allures, Embung Batara Sriten is indeed known for its beautiful lake. The milky color and serenity would sooth everyone there. The thing is tourists are not recommended to take a bath or get in the water. Even though swimming is possible, visitors need to obtain special permission from the keeper first. It is considered troublesome, somehow. As an alternative, everyone can take advantage of the panoramas for sightseeing and relaxation!
The presence of gazebos and benches helps visitors to enjoy relaxation better up there. In fact, everyone can use it freely! Here is the tip. In order to enjoy the atmosphere better, tourists must come only at the great times. For example, Embung Batara Sriten looks soother in the afternoon. One of the reasons is the appearance of a romantic sunset! Later, visitors can also drop by at the famous Mangir Peak for better views!
Nearby Attractions

Puncak Tugu
Panguk Suko Drono
Gedangsari Green Village
How to Get There
Embung Batara Sriten is located in Pilangrejo Village. However, tourists must get to the Yogyakarta Special Region first. From Jakarta City, the best way to reach the destination is indeed by airplane. A flight from Soekarno – Hatta International Airport to Adisucipto Airport would take around 1 hour and 10 minutes, actually. From Adisucipto Airport, tourists' next destination is Gunung Kidul Regency and they can take Nasional III Street. Usually, this trip may take about 1 hour and 9 minutes, as the distance is 44.8 km. From Gunung Kidul, they must take Nglipar – Wonosari Street and head to Embung Batara Sriten right away. The distance is 29.3 km, so the trip may take around 1 hour and 2 minutes.
Where to Stay

The New Orlinds Guesthouse