Kesirat Beach in Gunung Kidul Regency, Yogyakarta Special Region
---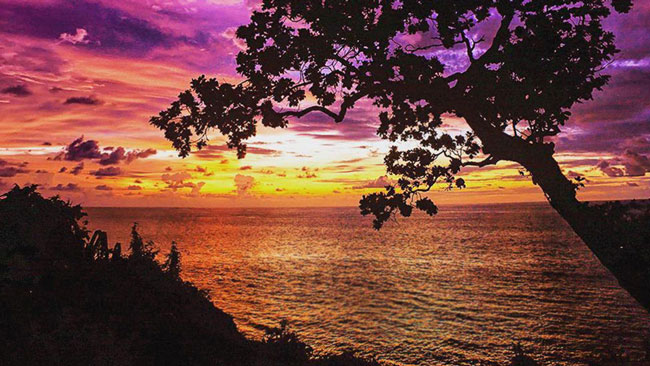 The next recommended beach to explore when visiting Gunung Kidul Regency is called Kesirat Beach. This one is located in Girikerto Village and belongs to Panggang Sub-District. Another name is Gesirat Beach and it has become villagers' favorite spot to relax and enjoy sea scenery. The popularity even lures more outsiders or tourists over time. The accessibility is considered difficult and visitors can only enjoy the panoramas from the top of the cliff. That means they won't find a sandy shoreline there. Still, both the nuance and beauty are quite impressive!
The Nuance
As mentioned earlier, Kesirat Beach doesn't have a sandy shoreline. Instead, it features big coral reefs and cliffs! The cliffs connect directly to the sea and they look quite majestic. The big waves of southern sea hit those cliffs and create a big sound, as well. This unique nuance indeed soothes all visitors or those who explore the site. The next noticeable feature is the presence of a giant lonely tree that grows in a specific spot of the cliff. The tree often becomes an object for photography, as well.
Exploring Kesirat Beach
Those who love beach walking and playing on the sand won't be able to enjoy these activities in Kesirat Beach. Have no worries. They can enjoy other fun things during the visit. For instance, they can explore the cliff and take photos of available beautiful objects there. While collecting these photos, tourists should not forget to reach a certain spot where the lonely tree is located. This tree looks serene and beautiful! This unique object is indeed worth a photo shot! One thing, everyone should walk carefully when exploring the cliff.
The next thing to do in Kesirat Beach is sightseeing. Tourists can simply stand on the cliff and witness beautiful sea scenery. They can do this regardless of the time, in fact. According to the locals, the best time to enjoy sightseeing is in the afternoon or at dusk. The purpose is to enjoy a more soothing atmosphere and better views. Not to mention they can enjoy the best view, which is the romantic sunset. At the time, many local couples can be seen on the site as well. These people want to enjoy such nuance with their beloved ones, after all.
What is next? Tourists would meet some locals who often come to Kesirat Beach for fishing. These people conduct rock fishing and explore the cliffs to find the best fishing spot. Some of them also come to the beach to look for lobsters. The good thing is tourists are allowed to join the activity, as long as they carry a fishing rod and the right equipment.
Nearby Attractions

Ngobaran Beach
Wohkudu Beach
Kobra Beach
How to Get There
For those coming from Jakarta City, they must take an airplane at Soekarno – Hatta International Airport and head to Adisucipto Airport in Yogyakarta City. This flight usually takes around 1 hour and 10 minutes. After arriving at Yogyakarta, tourists must take Nasional III Street and head to Gunung Kidul Regency first. This trip may take around 1 hour and 9 minutes, as the distance is 44.8 km. From Gunung Kidul, they can simply take Raya Panggang Wonosari Street and head to the beach right away. This time, the trip would take about 1 hour, as the distance is 37.2 km.
Where to Stay

Queen of the South Beach Resort