Kalisuci Cave in Gunung Kidul Regency, Yogyakarta Special Region
---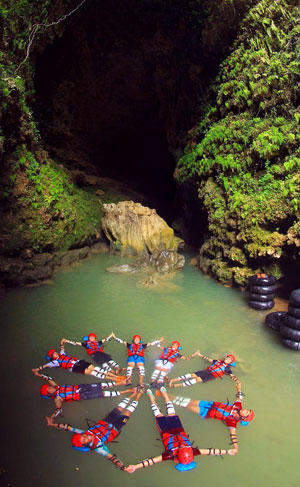 Many famous tourist sites can be found in Gunung Kidul Regency of Yogyakarta Special Region. One of them is Kalisuci Cave and it is located in Semanu Sub-District. Tourists only need to visit Pacarejo Village in order to get to the location. Aside from caving or exploration, people come to the site for other reasons. The fact is the cave is known for its cave tubing! Moreover, it was the pioneer and older than that of Pindul Cave. No wonder, the popularity is able to lure lots of tourists both from nearby villages and outside the regions.
The Nuance
In terms of nuance, Kalisuci Cave is considered peaceful due to the seclusion. The cave indeed features an underground river some rocky cliffs. As for the river flow, it is considered stronger than Pindul Cave. Thus, it offers a more challenging experience to tourists. The number of visitors is indeed high due to the popularity. Not to mention it is maintained by professional management. This first cave tubing site in Indonesia also has clear and beautiful water, which keeps clean regardless of the season.
Exploring Kalisuci Cave
Well, tourists must know the meaning of the name first. "Kalisuci" means the unspoiled river. It is because the river always looks clean and clear even though during the rainy season. This explains why beauty never fails to astonish visitors! So, what are other things to enjoy on the site? Aside from sightseeing and photography, people's prime motive is definitely to enjoy cave tubing. This fun and challenging activity are suitable for those who love nature, for sure. Here is further information about it.
Once arriving at the basecamp or meeting point, tourists can approach the management right away and get prepared to enjoy cave tubing. However, they must pass through rock cliff stairs in order to get down to the cave entrance. This would take around 10 – 15 minutes. Next, everyone should listen to the instruction and wear safety gear before enjoying cave tubing. For the information, the tubing route has a length of about 500 meters. The depth of the river is 1 – 3 meters. Usually, this cave tubing would take around 1.5 hours. Not to mention tourists would pass through several caves including Suci, Geleng, Mburi Omah, and Senglat Cave.
During cave tubing, tourists can enjoy numerous types of beautiful panoramas. The most attractive ones perhaps are both stalagmites and stalactites. As for the gear, tourists need to wear a helmet, headlamp, buoy, etc. Have no worries. The management would take care of this to them. Also, it costs some money to enjoy cave tubing. Thus, don't forget to carry some money when heading to the site later.
Nearby Attractions

Goa Glendu Park
Jomblang Cave
Embung Jlmaprong
How to Get There
The first destination is the Yogyakarta Special Region and it can be done fast by airplane, especially for those coming from outside the region. For instance, a flight from Soekarno – Hatta International Airport to Adisucipto Airport would take around 1 hour and 10 minutes. After arriving at Yogyakarta, tourists can simply take Nasional III Street and head to Gunung Kidul Regency right away. The distance is 44.8 km, so the trip takes around 1 hour and 9 minutes. Next, they should take Kalisuci Street and reach Pacarejo Village where the basecamp is located. This trip would take around 13 minutes, as the distance is 4.4 km. From the basecamp, it requires short trekking to reach the entrance of the cave later.
Where to Stay

Trysus Homestay
Pak Ibnu Homestay
Tiyuk Homestay