Ngedan Beach in Gunung Kidul Regency, Yogyakarta Special Region
---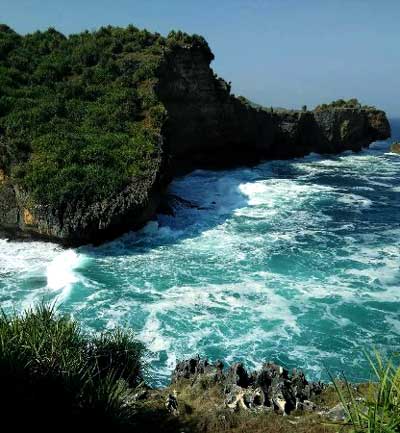 Being the part of Yogyakarta Special Region, Gunung Kidul Regency has become a nice vacation destination for both adventurers and casual tourists. Actually, the region is known for its beaches. All of them are located in the south part of the region, including the one called Ngedan. This serene beach resides in Kanigoro Village and belongs to Saptosari Sub-District. The locals often take advantage of the beach to enjoy camping and exploration! As for tourists or outsiders, the can also enjoy casual tourist activities like playing beach soccer, flying kites, relaxation, photography, etc.
The Nuance
When it comes to accessibility, visitors may find stairs in order to get in the shoreline. The sandy landscape indeed welcomes them right away. Still, some parts of the shoreline also feature a grassy landscape, which is suitable for family recreation and relaxation. In terms of size, the shoreline has a length of about 150 meters. The nuance is pristine, featuring the sound of waves and songs of birds! During the low tide, many small corals and sea creatures can be seen clearly too! Not to mention some gazebos are available to use there. Plus, the beach comes with a beautiful hill, which is perfect for sightseeing.
Exploring Ngedan Beach
The most common thing to enjoy in Ngedan Beach is to play on the sandy shoreline. That means tourists can enjoy some activities like beach walking, beach soccer, and much more! As an alternative, they should reach the grassy land and roll a mat on it. The purpose is to enjoy eating together with families. Thus, it is recommended to carry some foods and drinks when visiting the beach later. What tourists need to pay attention is only the trash. They must put it in a plastic bag and throw it in a bin along the way to their home. In a nutshell, littering is prohibited.
What is next? Lots of people also come to Ngedan Beach in order to watch beautiful sea scenery. This can be done easily from the shoreline or the top of a nearby hill! The distance between the beach and the hill is about 400 meters and it requires some stamina to get on top of it. Have no worries. The tiredness is paid off once tourists arrive at the viewing post. Aside from the sea scenery, tourists can enjoy other panoramas including the romantic sunset in the afternoon!
Another good thing that tourists can enjoy in Ngedan Beach is definitely the sophisticated facilities. The beach features gazebos, culinary eateries, parking area, and toilets. Thus, it would feel comfortable spending much time there. Tourists can enjoy relaxation, fishing, and even camping! All of these can be done freely!
Nearby Attractions

Ngobaran Beach
Nglimun Beach
Njanganan Beach
Ngeden Beach
How to Get There
The first thing to do is to get to Yogyakarta Special Region. Tourists can get there by airplane, especially for those who come from outside the region, actually. From Jakarta City, they can take an airplane at Soekarno – Hatta International Airport and head to Adisucipto Airport right away. This flight usually takes around 1 hour and 10 minutes. After arriving at the airport, they should take Nasional III Street and head to Gunung Kidul Regency. This trip usually takes around 1 hour and 9 minutes, as the distance is 44.8 km. From Gunung Kidul, the next destination is none other than Ngedan Beach and the best route to take is Raya Panggang Wonosari Street. The distance is 34.4 km, so this trip may take around 1 hour and 1 minute.
Where to Stay