North Sumatra
---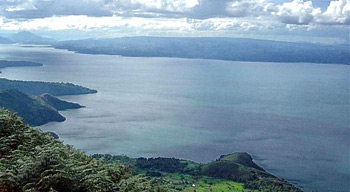 North Sumatra is one of Indonesia's last surfing frontiers. "North Sumatra" consists of 5 islands or island groups: Hinako Islands, Nias, Telos and 2 other obscure island groups to the north. North Sumatra receives similar swell to Mentawais and enjoys its peak swell season from May to September. Despite Indonesia's reputation for hollow lefts, in North Sumatra right-handers are slightly more prevalent. While Lagundri Bay at Nias has been surfed for decades, it is the more obscure rights like Bawa (a Sunset-like right bowl that holds up to 15 feet) and Treasure Island (a long, hollow, mechanical right peeling for 200 meters) that have attracted the attention of late. Throw a mix of hollow and bowl lefthanders into the picture like Asu, Afulu, the Machine, and many more obscure rights and lefts.
In contrast to the small island of Bali, North Sumatra province is large with one of the biggest lakes in the world, Toba Lake, at its navel. The continuous mountain of Bukit Barisan, which extends from Aceh at the tip of Sumatra island to Lampung at the bottom of the island, guards the province on the west side, providing home for thick, tropical jungles and lush vegetations. As you go down the western mountains towards the beaches of the east, mountain streams, strong rivers, and gorgeous waterfalls will accompany you.
Along the length of this province crosses Bukit Barisan Mountains with peaks of numerous volcanoes. The land has thick virgin forests, lush vegetation, rice fields, mountain streams, rivers, waterfalls and sandy beaches. It has a rich flora and fauna. An abundance of birds, butterflies, buffaloes, deer, mouse deer, orangutans and many other export commodities make North Sumatra one of the richest provinces in Indonesia, as it produces more than 30 % of Indonesia's exports. The province offers the visitors, especially nature lovers, beautiful tropical panoramas, terraced rice fields, blue mountains, jungle covered hills, white sandy beaches, music, dance and folk arts.

Latest News
Lake Toba is indeed a favorite tourist destination when visiting North Sumatra. The charm of beauty offered in this lake area is indeed never ending to be explored. One of them is the uniqueness of the 'lake above the lake'. This nickname is familiar to local people and tourists when mentioning Lake Sidihoni, which is in the Lake Toba area. This lake is located on Samosir Island, which is an island in the middle of Lake Toba. That's why, this lake nicknamed is the 'lake above the lake'. Here are…
---
For those of you who come to Nias Island for your next vacation, it is better to find information about attractions that were previously available. As for reference, the beautiful beach is in West Nias Regency named Sirombu. Usually tour agents will recommend this place to locals and foreigners. The reason is none other than the sunset view. In addition, Sirombu Beach is also equipped with amazing facilities and surroundings. Not surprisingly, many people consider it the best vacation spot in West Nias Regency. It is true that Sirombu Beach…
---
What makes Indonesia is a worthy vacation destination? Many travelers are impressed by nature beauty of the country. Moreover, there is a famous tourist spot in North Sumatra Province, which is called Toba Lake. Being the biggest lake in Indonesia, Toba becomes the signature tourism in Sumatra Island. It is because the flawless nature and pristine water would satisfy all visitors. People come to the lake to enjoy a family recreation, sightseeing, photography, and exploration. The fact is many different tourist spots are scattered around the lake. Tourists can explore…
---
Bohorok Rehabilitation Center Bohorok Rehabilitation Center is a shelter for Orangutan in Sumatra that settled in Bukit Lawang. Bukit Lawang is one of the top destinations in Sumatra; Bukit Lawang is a small village on the edge of Gunung Leuser National Park in North Sumatra. Situated around 90 km north-west of Medan along the clear Bohorok River and on the outskirts of the tropical rainforest. As we know, The Gunung Leuser National Park is also one of the homes to Orangutan that spread in entire Sumatra Island. Thomas Leaf monkeys, Black Gibbons, White…
---