Berastagi
---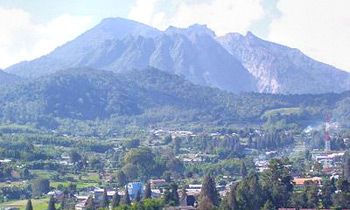 Berastagi, a tourist town, is another lovely town located in Karo highlands. The town is known for its plantations and various kinds of flowers, vegetables and fruit, most famous which is Marquisa passion fruit. It's 66 km southwest of Medan and is 4.594 feet above sea level. There is a pleasant colonial-style hotel with a golf course. Other new hotels can also be found. From Gundaling Hill a clear view of Mt. Sibayak and Mt. Sinabung volcanoes can be seen.
From this city, the visitors will enjoy charming scenery to the active mountainside, which are Sibayak Mountain and Sinabung Mountain. To climb Sibayak Mountain require at least 3 hours trip and we could enjoy pretty scenery in these mountains or 3 to 4 hours trip in the forest to see the nature wealth inside, for both the flora and the fauna around this forest.
The atmosphere of green nature from the reflection of the trees from the slope of Rangkap Sibayak Mountain (well known as Sibayak mountain) made the Berastagi city had flooded by tourists. The hill line along with the agricultural field, are always ready to refresh its visitor's eyes. Berastagi which rich with agro-industries became the appropriate choice for recreation spot other than Toba Lake and Samosir Island, which has become a trademark of North Sumatra.
Berastagi has the strategic location to become the stopping place, not just because several tourist attractions are easy to be accessed from here, but also the hotels are well provided. Hotels can be easily found with varying price, by offering the design typical to the locals. However the visitor still have the choice to choose the hotels and villas that historically were the legacy of colonial period.

Latest News
Lake Toba is indeed a favorite tourist destination when visiting North Sumatra. The charm of beauty offered in this lake area is indeed never ending to be explored. One of them is the uniqueness of the 'lake above the lake'. This nickname is familiar to local people and tourists when mentioning Lake Sidihoni, which is in the Lake Toba area. This lake is located on Samosir Island, which is an island in the middle of Lake Toba. That's why, this lake nicknamed is the 'lake above the lake'. Here are…
---
For those of you who come to Nias Island for your next vacation, it is better to find information about attractions that were previously available. As for reference, the beautiful beach is in West Nias Regency named Sirombu. Usually tour agents will recommend this place to locals and foreigners. The reason is none other than the sunset view. In addition, Sirombu Beach is also equipped with amazing facilities and surroundings. Not surprisingly, many people consider it the best vacation spot in West Nias Regency. It is true that Sirombu Beach…
---
What makes Indonesia is a worthy vacation destination? Many travelers are impressed by nature beauty of the country. Moreover, there is a famous tourist spot in North Sumatra Province, which is called Toba Lake. Being the biggest lake in Indonesia, Toba becomes the signature tourism in Sumatra Island. It is because the flawless nature and pristine water would satisfy all visitors. People come to the lake to enjoy a family recreation, sightseeing, photography, and exploration. The fact is many different tourist spots are scattered around the lake. Tourists can explore…
---
Bohorok Rehabilitation Center Bohorok Rehabilitation Center is a shelter for Orangutan in Sumatra that settled in Bukit Lawang. Bukit Lawang is one of the top destinations in Sumatra; Bukit Lawang is a small village on the edge of Gunung Leuser National Park in North Sumatra. Situated around 90 km north-west of Medan along the clear Bohorok River and on the outskirts of the tropical rainforest. As we know, The Gunung Leuser National Park is also one of the homes to Orangutan that spread in entire Sumatra Island. Thomas Leaf monkeys, Black Gibbons, White…
---