Great Bukit Barisan Forest Park
---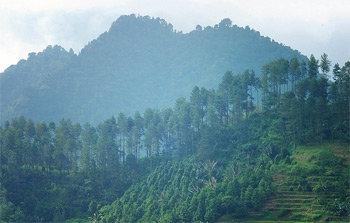 The Bukit Barisan or the Barisan Mountains are a mountain range on the western side of Sumatra. It covering nearly 1,700 km (1,050 mi) from the north to the south of the island. The Bukit Barisan range consists primarily of volcanoes shrouded in dense jungle cover, including Sumatran tropical pine forests on the higher slopes.
Lined extends from Lampung to Aceh, Bukit Barisan seems to be the backbone of the island of Sumatra and split into two. Side of the east coast of the broader and ramps as well as the west coast of the narrow and steep.
As the backbone of Sumatra, Bukit Barisan plays an important role as a source of water from all the major rivers on the island. The rivers that flow into the west coast (the Indian Ocean), such as Alas and Batangtoru, or which empties into the East Coast (waterway), as Indragiri, Batang, and Musi, tipped in Bukit Barisan.
Since 1940s, the Dutch geologist, Van Bemmelen, began researching the uniqueness of the landscape in this region. He then wrote his observations in his book, The Geology of Indonesia, which was published in 1949. After that many foreign researchers and Indonesia were down Bukit Barisan for menelisiknya, one geologist of the Indonesian Institute of Sciences (LIPI), JF Katili, who examined the area this circa 1960s.

Latest News
Lake Toba is indeed a favorite tourist destination when visiting North Sumatra. The charm of beauty offered in this lake area is indeed never ending to be explored. One of them is the uniqueness of the 'lake above the lake'. This nickname is familiar to local people and tourists when mentioning Lake Sidihoni, which is in the Lake Toba area. This lake is located on Samosir Island, which is an island in the middle of Lake Toba. That's why, this lake nicknamed is the 'lake above the lake'. Here are…
---
For those of you who come to Nias Island for your next vacation, it is better to find information about attractions that were previously available. As for reference, the beautiful beach is in West Nias Regency named Sirombu. Usually tour agents will recommend this place to locals and foreigners. The reason is none other than the sunset view. In addition, Sirombu Beach is also equipped with amazing facilities and surroundings. Not surprisingly, many people consider it the best vacation spot in West Nias Regency. It is true that Sirombu Beach…
---
What makes Indonesia is a worthy vacation destination? Many travelers are impressed by nature beauty of the country. Moreover, there is a famous tourist spot in North Sumatra Province, which is called Toba Lake. Being the biggest lake in Indonesia, Toba becomes the signature tourism in Sumatra Island. It is because the flawless nature and pristine water would satisfy all visitors. People come to the lake to enjoy a family recreation, sightseeing, photography, and exploration. The fact is many different tourist spots are scattered around the lake. Tourists can explore…
---
Bohorok Rehabilitation Center Bohorok Rehabilitation Center is a shelter for Orangutan in Sumatra that settled in Bukit Lawang. Bukit Lawang is one of the top destinations in Sumatra; Bukit Lawang is a small village on the edge of Gunung Leuser National Park in North Sumatra. Situated around 90 km north-west of Medan along the clear Bohorok River and on the outskirts of the tropical rainforest. As we know, The Gunung Leuser National Park is also one of the homes to Orangutan that spread in entire Sumatra Island. Thomas Leaf monkeys, Black Gibbons, White…
---