The Three Batak Megalithic
---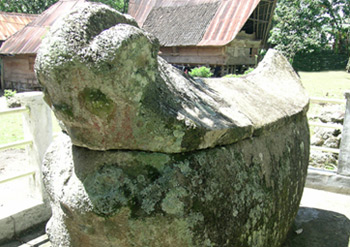 The three megalithic sites on Samosir bear witness to the glory and horror of Batak history. The three consist of 300-year-old stone seats and benches arrayed in a circle. The first set of ruins was used as a conference area for Batak kings. At the second site, the kings would sit in judgment of a criminal or enemy prisoner. If the accused were found guilty, the assembly would move to the third set, which features the ghastly addition of a central stone execution block.
Other, less gruesome attraction can occupy many days of exploration and discovery. All over the island are superb examples of traditional Batak houses, with elaborate carvings and decorations. Performance of life-size is Gale-gale wooden puppet are held frequently, and at any moment, the musical Batak might break into an impromptu song, the seeming effortless, multi-part harmonies belying the casual setting.
Now, students and young professionals on tight budget have a good value accommodation, restaurants and general cosmopolitan atmosphere remain. With few motor vehicles, the island is a walker's paradise. Local guides are available for numerous hikes of varying difficulty around the island and surrounding lakeshore. Those who complete the 1600 meter climb up muddy trails to the village of Roonggurni need not be proud of their accomplishment: village children descend and re-climb the mountain every day to attend school.

Latest News
Lake Toba is indeed a favorite tourist destination when visiting North Sumatra. The charm of beauty offered in this lake area is indeed never ending to be explored. One of them is the uniqueness of the 'lake above the lake'. This nickname is familiar to local people and tourists when mentioning Lake Sidihoni, which is in the Lake Toba area. This lake is located on Samosir Island, which is an island in the middle of Lake Toba. That's why, this lake nicknamed is the 'lake above the lake'. Here are…
---
For those of you who come to Nias Island for your next vacation, it is better to find information about attractions that were previously available. As for reference, the beautiful beach is in West Nias Regency named Sirombu. Usually tour agents will recommend this place to locals and foreigners. The reason is none other than the sunset view. In addition, Sirombu Beach is also equipped with amazing facilities and surroundings. Not surprisingly, many people consider it the best vacation spot in West Nias Regency. It is true that Sirombu Beach…
---
What makes Indonesia is a worthy vacation destination? Many travelers are impressed by nature beauty of the country. Moreover, there is a famous tourist spot in North Sumatra Province, which is called Toba Lake. Being the biggest lake in Indonesia, Toba becomes the signature tourism in Sumatra Island. It is because the flawless nature and pristine water would satisfy all visitors. People come to the lake to enjoy a family recreation, sightseeing, photography, and exploration. The fact is many different tourist spots are scattered around the lake. Tourists can explore…
---
Bohorok Rehabilitation Center Bohorok Rehabilitation Center is a shelter for Orangutan in Sumatra that settled in Bukit Lawang. Bukit Lawang is one of the top destinations in Sumatra; Bukit Lawang is a small village on the edge of Gunung Leuser National Park in North Sumatra. Situated around 90 km north-west of Medan along the clear Bohorok River and on the outskirts of the tropical rainforest. As we know, The Gunung Leuser National Park is also one of the homes to Orangutan that spread in entire Sumatra Island. Thomas Leaf monkeys, Black Gibbons, White…
---