Hotels In North Sumatra
---
Hotel Polonia Medan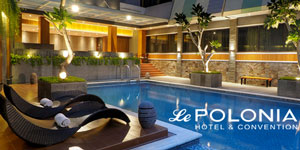 The ideal venue for your banquet or corporate event. Whether it's a wedding, group convention, theme party or a business meeting, our team of Event Specialist will ensure that your next event will be the most successful. Our Ballroom Rasa Sayang can accommodate up to 1000 people for cocktails and 800 people for banquet. We proudly presents sophisticated features and services, crafted purposely to meet the highest satisfactions. The 24 hours room service to make our guests feel comfortably at home anytime.
Jl. Jendral Sudirman No. 14
Medan, North Sumatera 20152
Indonesia
Phone: +62 61 4142222
Web: lepoloniahotel.com
Grand Mercure Maha Cipta Medan Angkasa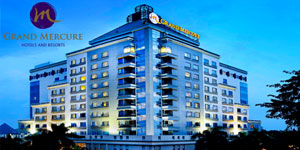 Located right in Medan's business and shopping district, the hotel is conveniently accessible for leisure and business. Approximately 39 km from the hotel, a 60 minutes drive away from Kuala Namu International Airport and a walking distance from Train Station (Railink - Airport-to-City train). Unrivaled spacious rooms for everyone, equipped with complimentary WiFi and contemporary furnishing, luxurious bedding and flat-panel TV. Our Grand Ballroom can accommodate up to 1200 persons.
Jl. Sutomo No.1, Perintis, Medan Timur
Medan, North Sumatera 20235
Indonesia
Phone: +62 614555888
Web: grandmercure.com
Horison Hotel Pematang Siantar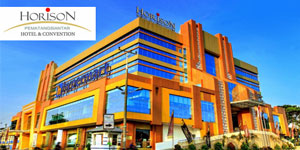 Conveniently located just a few minutes away from the downtown, Horison Hotel Pematang Siantar house the most number of rooms in Pematangsiantar and is in the same building as Hypermart along with facilities such as Private Parking, free Wi-Fi Internet, savory Buffet Breakfast and many more.
Jl. Medan No.88 Pematang Siantar
Pematang Siantar, North Sumatera
Indonesia
Phone: +62 0622 589 1234
Web: horisonsiantar.co.id
Samosir Villa Resort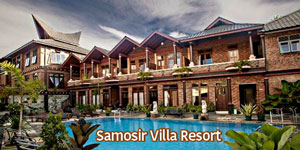 A new Villa Resort addition to Tuk Tuk - Samosir Island. Located in one of the most dynamic and strategic area right beside of the Lake Toba.This newly build, all suite. Imagine an island right in the middle of the biggest volcanic lake in the world, Lake Toba.Wake up to the sun rising over the lake just a few steps from your bed, in a perfect vision of tropical paradise.
Jl. Lingkar Tuktuk Siadong, Simanindo
Samosir, North Sumatera 22395
Indonesia
Phone: +62 062 625 451399
Web: samosirvillaresort.com

Latest News
Lake Toba is indeed a favorite tourist destination when visiting North Sumatra. The charm of beauty offered in this lake area is indeed never ending to be explored. One of them is the uniqueness of the 'lake above the lake'. This nickname is familiar to local people and tourists when mentioning Lake Sidihoni, which is in the Lake Toba area. This lake is located on Samosir Island, which is an island in the middle of Lake Toba. That's why, this lake nicknamed is the 'lake above the lake'. Here are…
---
For those of you who come to Nias Island for your next vacation, it is better to find information about attractions that were previously available. As for reference, the beautiful beach is in West Nias Regency named Sirombu. Usually tour agents will recommend this place to locals and foreigners. The reason is none other than the sunset view. In addition, Sirombu Beach is also equipped with amazing facilities and surroundings. Not surprisingly, many people consider it the best vacation spot in West Nias Regency. It is true that Sirombu Beach…
---
What makes Indonesia is a worthy vacation destination? Many travelers are impressed by nature beauty of the country. Moreover, there is a famous tourist spot in North Sumatra Province, which is called Toba Lake. Being the biggest lake in Indonesia, Toba becomes the signature tourism in Sumatra Island. It is because the flawless nature and pristine water would satisfy all visitors. People come to the lake to enjoy a family recreation, sightseeing, photography, and exploration. The fact is many different tourist spots are scattered around the lake. Tourists can explore…
---
Bohorok Rehabilitation Center Bohorok Rehabilitation Center is a shelter for Orangutan in Sumatra that settled in Bukit Lawang. Bukit Lawang is one of the top destinations in Sumatra; Bukit Lawang is a small village on the edge of Gunung Leuser National Park in North Sumatra. Situated around 90 km north-west of Medan along the clear Bohorok River and on the outskirts of the tropical rainforest. As we know, The Gunung Leuser National Park is also one of the homes to Orangutan that spread in entire Sumatra Island. Thomas Leaf monkeys, Black Gibbons, White…
---