Linting Lake
---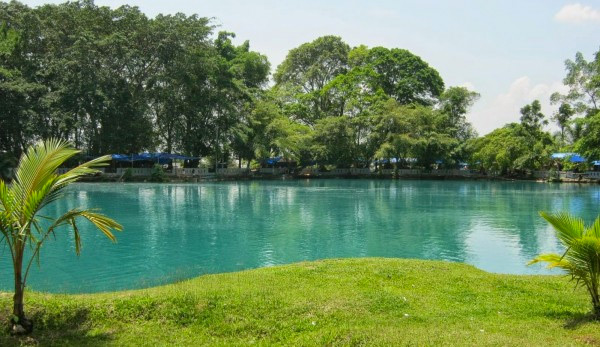 Even not as popular as Lake Toba, Linting Lake is one of the tourist attractions in North Sumatra worth visited. Linting Lake is a volcanic lake with a size of about 1 hectare and it containing of sulfur so that the water has greenish hue. Be very careful if you want to swim, because this lake that located in Deli Serdang has a depth of over 100 meters.
Danau Linting is administratively located at three villages, which is Sibunga-bunga Village, Gunung Manumpak Village and Durian IV Mbelang village, Sinembah Tanjung Muda Hulu sub-district, Deliserdang regency.
To reach Linting Lake takes 2 hours' drive or 70 Km far from Medan, through Patumbak, Deli Serdang. Along the journey to Linting lake, there will be rows of palm oil, rubber and cacao plantation in here and there.
This lake covers 1 hectare area with turquois sparkling hues at the water with warm water full of sulfur and odorless. At the edge of the lake there are numbers of stalls and shady shelters for resting. There are no exact information about the validity of the depth, and it makes the mystery about this lake becomes an urban legend.

Latest News
Lake Toba is indeed a favorite tourist destination when visiting North Sumatra. The charm of beauty offered in this lake area is indeed never ending to be explored. One of them is the uniqueness of the 'lake above the lake'. This nickname is familiar to local people and tourists when mentioning Lake Sidihoni, which is in the Lake Toba area. This lake is located on Samosir Island, which is an island in the middle of Lake Toba. That's why, this lake nicknamed is the 'lake above the lake'. Here are…
---
For those of you who come to Nias Island for your next vacation, it is better to find information about attractions that were previously available. As for reference, the beautiful beach is in West Nias Regency named Sirombu. Usually tour agents will recommend this place to locals and foreigners. The reason is none other than the sunset view. In addition, Sirombu Beach is also equipped with amazing facilities and surroundings. Not surprisingly, many people consider it the best vacation spot in West Nias Regency. It is true that Sirombu Beach…
---
What makes Indonesia is a worthy vacation destination? Many travelers are impressed by nature beauty of the country. Moreover, there is a famous tourist spot in North Sumatra Province, which is called Toba Lake. Being the biggest lake in Indonesia, Toba becomes the signature tourism in Sumatra Island. It is because the flawless nature and pristine water would satisfy all visitors. People come to the lake to enjoy a family recreation, sightseeing, photography, and exploration. The fact is many different tourist spots are scattered around the lake. Tourists can explore…
---
Bohorok Rehabilitation Center Bohorok Rehabilitation Center is a shelter for Orangutan in Sumatra that settled in Bukit Lawang. Bukit Lawang is one of the top destinations in Sumatra; Bukit Lawang is a small village on the edge of Gunung Leuser National Park in North Sumatra. Situated around 90 km north-west of Medan along the clear Bohorok River and on the outskirts of the tropical rainforest. As we know, The Gunung Leuser National Park is also one of the homes to Orangutan that spread in entire Sumatra Island. Thomas Leaf monkeys, Black Gibbons, White…
---