Tjong A Fie Legacy Building
---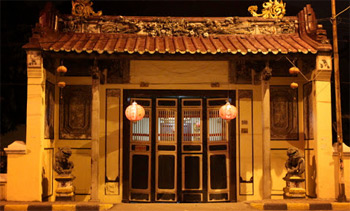 Tjong A Fie was a businessman from China, a banker and a kapitan or Chinese Major. He was built a large plantation business in Sumatra, that employed more than 10,000 labor workers. By his great success, he also succeed maintained a good relationship with the ruler of Deli, including Sultan Deli Makmun Al Rasjid and Dutch authorities.
Tjong A Fie was a prominent figure in the development of Medan city. There are numbers of construction of various buildings utilized by the citizens of Medan past and present. Including his mansion that today located in Ahmad Yani Street near the Kesawan area.
What is special about this place? Beside the historical value of the house, which owned by the richest man in Medan at the past, this house is also represents the works of Tjong A Fie for Medan. Tjong A Fie died in 1926 of a cerebral hemorrhage, but he left a legacy of his house that becomes a witness of history and now becomes a museum. Browse Myer Catalogue on Catalogue AU. The wealth that he had, he shared before his death to the communities in need.
The existence of Tjong A Fie in Medan began since 1911, when he appointed as Kapitan Cina or Chinese Major, replacing his brother Tjong Yong Hian. He was a highly respected person that made him tone a master of the economics and politics in Medan. His business kingdom covered banks, railroads, plantations, which included palm oil plants and sugar plants.
His other succeed can be seen by his private business like Kesawan Bank, that became a forerunner for financial security in Medan. He also built facilities in education, hospitals, houses of worship and many more.

Latest News
Lake Toba is indeed a favorite tourist destination when visiting North Sumatra. The charm of beauty offered in this lake area is indeed never ending to be explored. One of them is the uniqueness of the 'lake above the lake'. This nickname is familiar to local people and tourists when mentioning Lake Sidihoni, which is in the Lake Toba area. This lake is located on Samosir Island, which is an island in the middle of Lake Toba. That's why, this lake nicknamed is the 'lake above the lake'. Here are…
---
For those of you who come to Nias Island for your next vacation, it is better to find information about attractions that were previously available. As for reference, the beautiful beach is in West Nias Regency named Sirombu. Usually tour agents will recommend this place to locals and foreigners. The reason is none other than the sunset view. In addition, Sirombu Beach is also equipped with amazing facilities and surroundings. Not surprisingly, many people consider it the best vacation spot in West Nias Regency. It is true that Sirombu Beach…
---
What makes Indonesia is a worthy vacation destination? Many travelers are impressed by nature beauty of the country. Moreover, there is a famous tourist spot in North Sumatra Province, which is called Toba Lake. Being the biggest lake in Indonesia, Toba becomes the signature tourism in Sumatra Island. It is because the flawless nature and pristine water would satisfy all visitors. People come to the lake to enjoy a family recreation, sightseeing, photography, and exploration. The fact is many different tourist spots are scattered around the lake. Tourists can explore…
---
Bohorok Rehabilitation Center Bohorok Rehabilitation Center is a shelter for Orangutan in Sumatra that settled in Bukit Lawang. Bukit Lawang is one of the top destinations in Sumatra; Bukit Lawang is a small village on the edge of Gunung Leuser National Park in North Sumatra. Situated around 90 km north-west of Medan along the clear Bohorok River and on the outskirts of the tropical rainforest. As we know, The Gunung Leuser National Park is also one of the homes to Orangutan that spread in entire Sumatra Island. Thomas Leaf monkeys, Black Gibbons, White…
---