Tomok and Tuk Tuk Village
---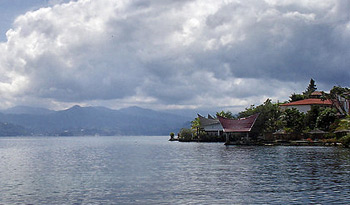 Samosir Island, lies on the big crater Toba Lake. The island and surrounding areas is the heart of Batak culture. Visiting Toba Lake is not complete without stay in Samosir with many traditional villages along the shore. Toba Lake can be reached approximately 4 hours trip from Medan. As you know, in Samosir you can do anything like cycling to the highlands through the traditional villages is pleasure experience because from the summit of highland can see the beautiful panorama in this great blue lake.
Tomok and Tuk Tuk are the traditional villages that is a truly exotic village on the coast Lake Toba. Tomok itself is the traditional village well-known as the gateway to reach Samosir. Here you can find the sarcophagus big stone chieftain of Sidabutar. Carved from a single block of stone. The face is carved with the lion face-mythical creature, part bull, part elephant. In the saddle-shaped lid is a small statue of woman carrying the bowl believed to represent the dead chief's wife.
Beautiful traditional house painted standing in neat rows, with their backs to the lake, equipped with granary facing the housing. Batak elaborate designs on the houses shaped leaves and flowers and usually black, white and red.
While Tuk Tuk within 4 kilometers from Tomok, Tuk Tuk lies fairly close to the gate of the island. In fact, Tuk Tuk be the resting place of the most favored by tourists both local and foreign during their vacation on the island. Arriving in Tuk Tuk, you might admire the arrangement of the village that are quite neat and clean, which is able to be a magnet that you willing to stop by and enjoy your evening on the island.
Tuk Tuk is an area that full of exotic landscapes. From this place anyway, you can enjoy the beauty of Lake Toba that is so magical. The place is become the center of tourists who want to spend the night in Samosir. There are numbers of hotels and villas that can be your best deal to stay. There are also several coffee shop that provide internet facilities for your business important. As a tourist destination village, in addition to its natural scenery, Tuk Tuk is also known for rich Batak culture. Therefore, when you took a visit to Tuk Tuk, you do not need to worry because there are plenty of attractions that will make your vacation more memorable.
In Tomok and Tuk Tuk, you can also find a wide range of Batak culture, including handicrafts such as a dazzling Batak wood carving, many kinds of Ulos, you can also enjoy music and dance performances of traditional Batak that is played by Gondang and displayed through dance tor tor. You can rent a boat at an affordable price. Or, you could be soaking up the sun at the edge of the coast, like being at the seaside. Swimming or enjoying water sports with canoes can also be an alternative for an exciting vacation. However, you can rent a motorbike or bicycle that is provided by locals, for exploring the village and all the beauty that is stored on it.
How to Get There
To get both the villages, starting from Parapat town takes about 4 hours from Medan by private or rental car. You can also take train to serve Medan-Pematang Siantar, then takes bus from Parapat, which takes about 2 hours. The buses also take passengers from Medan to Parapat via Lubuk Pakam, Tebing Tinggi and Pematang Siantar. Along the routes, enjoy the panorama of oil palm and rubber trees. From Parapat, ferries take passenger to Tomok and Tuk Tuk to the pier near the major hotels.

Latest News
Lake Toba is indeed a favorite tourist destination when visiting North Sumatra. The charm of beauty offered in this lake area is indeed never ending to be explored. One of them is the uniqueness of the 'lake above the lake'. This nickname is familiar to local people and tourists when mentioning Lake Sidihoni, which is in the Lake Toba area. This lake is located on Samosir Island, which is an island in the middle of Lake Toba. That's why, this lake nicknamed is the 'lake above the lake'. Here are…
---
For those of you who come to Nias Island for your next vacation, it is better to find information about attractions that were previously available. As for reference, the beautiful beach is in West Nias Regency named Sirombu. Usually tour agents will recommend this place to locals and foreigners. The reason is none other than the sunset view. In addition, Sirombu Beach is also equipped with amazing facilities and surroundings. Not surprisingly, many people consider it the best vacation spot in West Nias Regency. It is true that Sirombu Beach…
---
What makes Indonesia is a worthy vacation destination? Many travelers are impressed by nature beauty of the country. Moreover, there is a famous tourist spot in North Sumatra Province, which is called Toba Lake. Being the biggest lake in Indonesia, Toba becomes the signature tourism in Sumatra Island. It is because the flawless nature and pristine water would satisfy all visitors. People come to the lake to enjoy a family recreation, sightseeing, photography, and exploration. The fact is many different tourist spots are scattered around the lake. Tourists can explore…
---
Bohorok Rehabilitation Center Bohorok Rehabilitation Center is a shelter for Orangutan in Sumatra that settled in Bukit Lawang. Bukit Lawang is one of the top destinations in Sumatra; Bukit Lawang is a small village on the edge of Gunung Leuser National Park in North Sumatra. Situated around 90 km north-west of Medan along the clear Bohorok River and on the outskirts of the tropical rainforest. As we know, The Gunung Leuser National Park is also one of the homes to Orangutan that spread in entire Sumatra Island. Thomas Leaf monkeys, Black Gibbons, White…
---