Parapat Town
---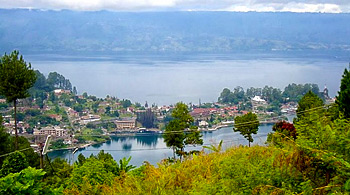 Parapat, also known as Prapat, is a small town that becomes one of tourist destinations on the shores of Lake Toba, it precisely located in the district of Simelungun, North Sumatra. Parapat town is about 48 km from Pematangsiantar, with a travel time of between 45 minutes to 1 hour by using public buses. While distance from Parapat city to Medan city is approximately 180 km to the distance between the 4-5 hour drive.
When you visit Parapat, make the time circling this small town. There are many sights that are so interesting to be visited. Besides, you can enjoy the beauty of Lake Toba from the city, Parapat is also save so many unique architecture and beautiful old buildings.
In this area, there is an ancient building that is still standing firmly on the tip of the peninsula in very steep cliffs. The building is a silent witness to the long history of the struggle of Indonesia. This is where the first President of the Republic of Indonesia, Ir. Sukarno, on January 1, 1949 was exiled by the Dutch. This building was built in 1820. The rest house measuring 10 mx 20 m was surrounded yard of 2 hectares. The neoclassical architectural style is really materialized in the building, and it adds the beauty of Parapat City. If the weather is sunny, this building is clearly visible from the setting of the sun.
Looking around the Prapat city, we can see that the architectural style of the buildings in the town of Parapat is the harmonization of the three elements of architecture of traditional, modern, and tropical. In addition to architectural tours, Parapat also rich in natural potential, spiritual tourism, historical tours, to culinary. The coolness of this small town will make you linger around the city to enjoy the exoticism that offers.

Latest News
Lake Toba is indeed a favorite tourist destination when visiting North Sumatra. The charm of beauty offered in this lake area is indeed never ending to be explored. One of them is the uniqueness of the 'lake above the lake'. This nickname is familiar to local people and tourists when mentioning Lake Sidihoni, which is in the Lake Toba area. This lake is located on Samosir Island, which is an island in the middle of Lake Toba. That's why, this lake nicknamed is the 'lake above the lake'. Here are…
---
For those of you who come to Nias Island for your next vacation, it is better to find information about attractions that were previously available. As for reference, the beautiful beach is in West Nias Regency named Sirombu. Usually tour agents will recommend this place to locals and foreigners. The reason is none other than the sunset view. In addition, Sirombu Beach is also equipped with amazing facilities and surroundings. Not surprisingly, many people consider it the best vacation spot in West Nias Regency. It is true that Sirombu Beach…
---
What makes Indonesia is a worthy vacation destination? Many travelers are impressed by nature beauty of the country. Moreover, there is a famous tourist spot in North Sumatra Province, which is called Toba Lake. Being the biggest lake in Indonesia, Toba becomes the signature tourism in Sumatra Island. It is because the flawless nature and pristine water would satisfy all visitors. People come to the lake to enjoy a family recreation, sightseeing, photography, and exploration. The fact is many different tourist spots are scattered around the lake. Tourists can explore…
---
Bohorok Rehabilitation Center Bohorok Rehabilitation Center is a shelter for Orangutan in Sumatra that settled in Bukit Lawang. Bukit Lawang is one of the top destinations in Sumatra; Bukit Lawang is a small village on the edge of Gunung Leuser National Park in North Sumatra. Situated around 90 km north-west of Medan along the clear Bohorok River and on the outskirts of the tropical rainforest. As we know, The Gunung Leuser National Park is also one of the homes to Orangutan that spread in entire Sumatra Island. Thomas Leaf monkeys, Black Gibbons, White…
---