Rahmat International Wildlife Museum
---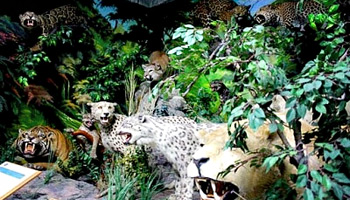 Rahmat International Wildlife Museum & Gallery is a fascinating tourism site in the city of Medan, North Sumatra. This museum and gallery stores various marvelous collection consists of a variety of wild animals preserved that derived from hunting in various places around the world.
Around 2000 more animals, large and small, are arranged with very artistic and elegant in accordance with their habitat in the air-filled spaces at this International Wildlife Museum & Gallery. This museum is settled in a building on Jl. S. Parman 309, Medan, North Sumatra. Rahmat International Wildlife Museum & Gallery, said to be the first wildlife gallery in Southeast Asia, is the property of Rahmat Shah, a businessman and a professional hunter. Rahmat is the first Indonesian to receive awards and international recognition as The Big Five Grand Slam Awards and World Hunting Awards.
The admission fee is 25.000 per person, plus 10,000 for the night safari, if you want, you can add 20,000 if you want to take photograph. There is an interesting collection entitled The African Big Five, or five large animals from Africa, consisting of Bull, Elephant, Cheetah, White Rhino and Lion. The collection of African Big Five into one impressive display at this museum.
Moreover, the various types of animals cats, whether small or large, is available in a collection Cats of the World. Tiger, Leopard, Cheetah, Lion and the like are beasts that already become endanger animals from all over the world.
Most of the animals that kept at Rahmat International Wildlife Museum & Gallery is collected by the owner from his hunting authorized, using the world standard concept conservation by utilization. The standards for the prevention of extinction and to increase wildlife populations in their native habitat. Rahmat International Wildlife Museum & Gallery features a library of species and habitats of various countries, Gift Shop souvenir, Hunters Cafe with Audio Visual on poaching conservation, Studio Photo by professional photographers, and Multi Function Room on the 3rd floor with a collection of the legendary maestro of the world.

Latest News
Lake Toba is indeed a favorite tourist destination when visiting North Sumatra. The charm of beauty offered in this lake area is indeed never ending to be explored. One of them is the uniqueness of the 'lake above the lake'. This nickname is familiar to local people and tourists when mentioning Lake Sidihoni, which is in the Lake Toba area. This lake is located on Samosir Island, which is an island in the middle of Lake Toba. That's why, this lake nicknamed is the 'lake above the lake'. Here are…
---
For those of you who come to Nias Island for your next vacation, it is better to find information about attractions that were previously available. As for reference, the beautiful beach is in West Nias Regency named Sirombu. Usually tour agents will recommend this place to locals and foreigners. The reason is none other than the sunset view. In addition, Sirombu Beach is also equipped with amazing facilities and surroundings. Not surprisingly, many people consider it the best vacation spot in West Nias Regency. It is true that Sirombu Beach…
---
What makes Indonesia is a worthy vacation destination? Many travelers are impressed by nature beauty of the country. Moreover, there is a famous tourist spot in North Sumatra Province, which is called Toba Lake. Being the biggest lake in Indonesia, Toba becomes the signature tourism in Sumatra Island. It is because the flawless nature and pristine water would satisfy all visitors. People come to the lake to enjoy a family recreation, sightseeing, photography, and exploration. The fact is many different tourist spots are scattered around the lake. Tourists can explore…
---
Bohorok Rehabilitation Center Bohorok Rehabilitation Center is a shelter for Orangutan in Sumatra that settled in Bukit Lawang. Bukit Lawang is one of the top destinations in Sumatra; Bukit Lawang is a small village on the edge of Gunung Leuser National Park in North Sumatra. Situated around 90 km north-west of Medan along the clear Bohorok River and on the outskirts of the tropical rainforest. As we know, The Gunung Leuser National Park is also one of the homes to Orangutan that spread in entire Sumatra Island. Thomas Leaf monkeys, Black Gibbons, White…
---