Aek Sijornih
---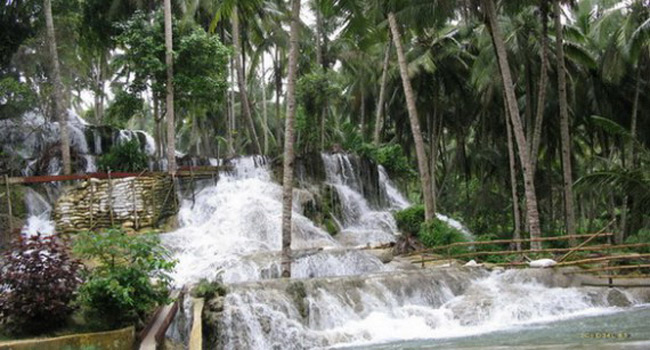 Aek Sijornih waterfall is two mini waterfalls with steps that located in Aek Libung village, Sayur Matinggi sub-district, South Tapanuli regency, North Sumatra. In contrast to common waterfalls that have slender and upright high, these waterfalls are located on the terrain slop / tilt on the ground with limestone content. The water spilled widely to the left and right, and epically look like water staring. The word Aek Sijornih means clear water, and it explaining the condition during rainy or dry season, the waterfall will always clear. This waterfall has 10 m high and it surrounded by palm trees that grow around the waterfall.
Located around + 35 km east of Padang Sidempuan, for about 2 hours' drive or 380 km, it takes about 12 hours to reach this waterfall from Medan. Browse Myer Catalogue on Catalogue AU. We reach this location by private vehicle or public transportation like mini buses. Aside from Medan, it can also be accessed from Padang and Pekanbaru with the same travel time from Medan.
In this place, it has complete facilities such as parking lot, stalls, huts, praying room, lavatories, etc. To enter the location we have to pass the suspension bridge (Rambin) to pass through the river and there is usually an entrance fee for about Rp 5000. This site has been managed by the Government area and it can be an option for holiday during your visit in North Sumatra.

Latest News
Lake Toba is indeed a favorite tourist destination when visiting North Sumatra. The charm of beauty offered in this lake area is indeed never ending to be explored. One of them is the uniqueness of the 'lake above the lake'. This nickname is familiar to local people and tourists when mentioning Lake Sidihoni, which is in the Lake Toba area. This lake is located on Samosir Island, which is an island in the middle of Lake Toba. That's why, this lake nicknamed is the 'lake above the lake'. Here are…
---
For those of you who come to Nias Island for your next vacation, it is better to find information about attractions that were previously available. As for reference, the beautiful beach is in West Nias Regency named Sirombu. Usually tour agents will recommend this place to locals and foreigners. The reason is none other than the sunset view. In addition, Sirombu Beach is also equipped with amazing facilities and surroundings. Not surprisingly, many people consider it the best vacation spot in West Nias Regency. It is true that Sirombu Beach…
---
What makes Indonesia is a worthy vacation destination? Many travelers are impressed by nature beauty of the country. Moreover, there is a famous tourist spot in North Sumatra Province, which is called Toba Lake. Being the biggest lake in Indonesia, Toba becomes the signature tourism in Sumatra Island. It is because the flawless nature and pristine water would satisfy all visitors. People come to the lake to enjoy a family recreation, sightseeing, photography, and exploration. The fact is many different tourist spots are scattered around the lake. Tourists can explore…
---
Bohorok Rehabilitation Center Bohorok Rehabilitation Center is a shelter for Orangutan in Sumatra that settled in Bukit Lawang. Bukit Lawang is one of the top destinations in Sumatra; Bukit Lawang is a small village on the edge of Gunung Leuser National Park in North Sumatra. Situated around 90 km north-west of Medan along the clear Bohorok River and on the outskirts of the tropical rainforest. As we know, The Gunung Leuser National Park is also one of the homes to Orangutan that spread in entire Sumatra Island. Thomas Leaf monkeys, Black Gibbons, White…
---