Pematang Siantar
---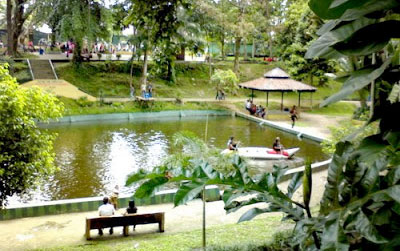 Pemantang Siantar or sometimes written as PT. Siantar or P. Siantar or just Siantar, is one of cities in North Sumatera and becomes the second biggest city after Medan. Pematangsiantar is settled in strategic location, and it is crossed by the Trans-Sumatran Highway. This city has an area of 79.97 km2 and a population as many as 240 787 inhabitants (2010). After Indonesia proclaimed its freedom in 1945, Pematangsiantar was granted the autonomous status. In 1974, Pematangsiantar became a second level district, and was appointed as the capital of Simalungun Regency.
Pematangsiantar can be reach only 128 km from Medan and 50 km from Parapat, it often becomes the city crossing for tourists who want to go to Lake Toba. As cities supporting tourism in the surrounding area, the city has an 8-star hotels, 10 motels and 268 restaurants.
Pematangsiantar saves a lot of stories. The city that had been built long before the Dutch come to Indonesia, once shaped the kingdom, namely the kingdom of Siantar, that led by Damanik dynasty, the king Sangnaualuh was the last heir.
Pematangsiantar's native inhabitants are the Simalungun Batak people. Nowadays, Chinese and ethnic Malays, including Javanese, are also inhabit some parts of the city, especially around the downtown area. The most developed part of the town is along the streets named Jalan Merdeka and Jalan Sutomo. Siantar is famous for Batak culture, 'Batik' and 'Ulos' fabric, and Batak foods. Most of Pematangsiantar's food styles are inherited from Batak and Chinese traditional food. Foods such as saksang (pork cooked in its own blood) and roasted pork, or drinks like tuak, an alcoholic beverage made from sugar palm and sometimes from coconut from the tribe of Batak are very popular.

Latest News
Lake Toba is indeed a favorite tourist destination when visiting North Sumatra. The charm of beauty offered in this lake area is indeed never ending to be explored. One of them is the uniqueness of the 'lake above the lake'. This nickname is familiar to local people and tourists when mentioning Lake Sidihoni, which is in the Lake Toba area. This lake is located on Samosir Island, which is an island in the middle of Lake Toba. That's why, this lake nicknamed is the 'lake above the lake'. Here are…
---
For those of you who come to Nias Island for your next vacation, it is better to find information about attractions that were previously available. As for reference, the beautiful beach is in West Nias Regency named Sirombu. Usually tour agents will recommend this place to locals and foreigners. The reason is none other than the sunset view. In addition, Sirombu Beach is also equipped with amazing facilities and surroundings. Not surprisingly, many people consider it the best vacation spot in West Nias Regency. It is true that Sirombu Beach…
---
What makes Indonesia is a worthy vacation destination? Many travelers are impressed by nature beauty of the country. Moreover, there is a famous tourist spot in North Sumatra Province, which is called Toba Lake. Being the biggest lake in Indonesia, Toba becomes the signature tourism in Sumatra Island. It is because the flawless nature and pristine water would satisfy all visitors. People come to the lake to enjoy a family recreation, sightseeing, photography, and exploration. The fact is many different tourist spots are scattered around the lake. Tourists can explore…
---
Bohorok Rehabilitation Center Bohorok Rehabilitation Center is a shelter for Orangutan in Sumatra that settled in Bukit Lawang. Bukit Lawang is one of the top destinations in Sumatra; Bukit Lawang is a small village on the edge of Gunung Leuser National Park in North Sumatra. Situated around 90 km north-west of Medan along the clear Bohorok River and on the outskirts of the tropical rainforest. As we know, The Gunung Leuser National Park is also one of the homes to Orangutan that spread in entire Sumatra Island. Thomas Leaf monkeys, Black Gibbons, White…
---