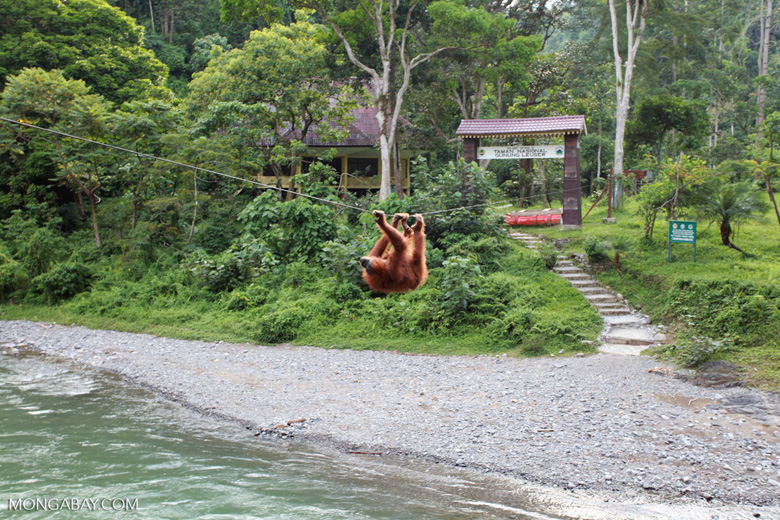 Bohorok Rehabilitation Center
Bohorok Rehabilitation Center is a shelter for Orangutan in Sumatra that settled in Bukit Lawang. Bukit Lawang is one of the top destinations in Sumatra; Bukit Lawang is a small village on the edge of Gunung Leuser National Park in North Sumatra. Situated around 90 km north-west of Medan along the clear Bohorok River and on the outskirts of the tropical rainforest. As we know, The Gunung Leuser National Park is also one of the homes to Orangutan that spread in entire Sumatra Island. Thomas Leaf monkeys, Black Gibbons, White Handed Gibbons, the Sumatran Tiger, Sumatran elephants, clouded leopards, marbled cat, crocodile, sun bear and the Sumatran Rhinoceros is also settled in this park.
Bohorok Rehabilitation Center founded in 1973 by two Swiss women, Monica Borner and Regina Frey, with the aim of returning captive and orphaned orangutans into the wild after re-teaching them the art of tree climbing and nest building.  The rangers at the center teach the orangutans all the necessary skills to survive in the wild. After a period of quarantine, readjustment to the natural habitat and reintegration in the wild population, the orangutan got released back into the jungle. Although the rehabilitation center has not operated since many years, all orangutans released are still focused by the rangers of the national park. Two times a day visitors now are allowed to join semi-wild orangutans while getting provided with supplementary food at the feeding platform. The rehabilitation programme was suspended a while ago and though the center is still open, it is more a tourist attraction than anything else.
Bohorok Rehabilitation Center that located at Bukit Lawang is 68 km from Medan. A bus trip will take around 3 – 4 hours. The road from Binjai to Bukit Lawang is the worst it has been in 10 years. The good news is that since Dec 2008 they started extensive repairs to the road, resurfacing it in many places.