Hillpark Sibolangit
---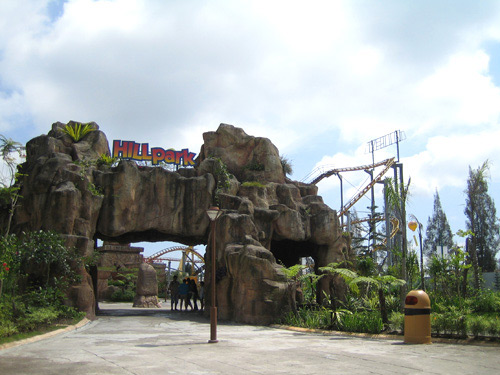 Hillpark Sibolangit is a place that you must visit if you travel to the city of Medan. Hillpark Sibolangit is a themepark that located in Sibolangit and it claimed to be the largest in the island of Sumatra. It divided into three themes: Lost City, toon town, and Heritage. The are some existing vehicle such as Roller Coaster (Extravagance), Ferries Wheel (Ferris wheel), 4D theater, and amphiteathre with the capacity of 1,200 for shows and concerts. Looking at the place, this Park is similar to Dufan in Jakarta, or the existing Trans Studio in Makassar and Bandung. But in contrast to Dufan, Hillpark is has smaller area. The name of Hillpark is taken for the location that settled in Sibolangit mountains, where the journey takes around one hour by car from Medan.
The amusement playground in Hillpark Sibolangit are:
1. The Heritage, it has the feel of a magnificent castle. The architecture buildings such as castles make you like a prince or princess. It consisting of indoor games and carnival games. There is also Souvenier Shop, Floor projection games, Comedy swivel, Ombang - ambing, bombs, Bumper boats, etc. Here, we can also watch movies with 4D technology.
2. The Lost City, it has the feel of the ancient architecture of ancient rocks with dinosaur skeleton. In this zone there are a variety of fun games like Extravagance (Rooler Coaster) and Windmills Giant (Ferries Wheel), Extravagance (will test your adrenaline), Giant mill, Telecombat, Space Shuttle, Train Hillpark. Foods: Lost City Food Court.
3. Toon Town, it has the nuance of children or toddler (cartoons). In this theme, there are many exciting rides or typical game such as: tornado, Mini BomBom, Ajut-Ajut, Propeller, Battery Car, Mini Mill, Crazy Taxi, tulalit. Foods: Toon town Foodcourt.

Latest News
Lake Toba is indeed a favorite tourist destination when visiting North Sumatra. The charm of beauty offered in this lake area is indeed never ending to be explored. One of them is the uniqueness of the 'lake above the lake'. This nickname is familiar to local people and tourists when mentioning Lake Sidihoni, which is in the Lake Toba area. This lake is located on Samosir Island, which is an island in the middle of Lake Toba. That's why, this lake nicknamed is the 'lake above the lake'. Here are…
---
For those of you who come to Nias Island for your next vacation, it is better to find information about attractions that were previously available. As for reference, the beautiful beach is in West Nias Regency named Sirombu. Usually tour agents will recommend this place to locals and foreigners. The reason is none other than the sunset view. In addition, Sirombu Beach is also equipped with amazing facilities and surroundings. Not surprisingly, many people consider it the best vacation spot in West Nias Regency. It is true that Sirombu Beach…
---
What makes Indonesia is a worthy vacation destination? Many travelers are impressed by nature beauty of the country. Moreover, there is a famous tourist spot in North Sumatra Province, which is called Toba Lake. Being the biggest lake in Indonesia, Toba becomes the signature tourism in Sumatra Island. It is because the flawless nature and pristine water would satisfy all visitors. People come to the lake to enjoy a family recreation, sightseeing, photography, and exploration. The fact is many different tourist spots are scattered around the lake. Tourists can explore…
---
Bohorok Rehabilitation Center Bohorok Rehabilitation Center is a shelter for Orangutan in Sumatra that settled in Bukit Lawang. Bukit Lawang is one of the top destinations in Sumatra; Bukit Lawang is a small village on the edge of Gunung Leuser National Park in North Sumatra. Situated around 90 km north-west of Medan along the clear Bohorok River and on the outskirts of the tropical rainforest. As we know, The Gunung Leuser National Park is also one of the homes to Orangutan that spread in entire Sumatra Island. Thomas Leaf monkeys, Black Gibbons, White…
---