Gunung Leuser National Park
---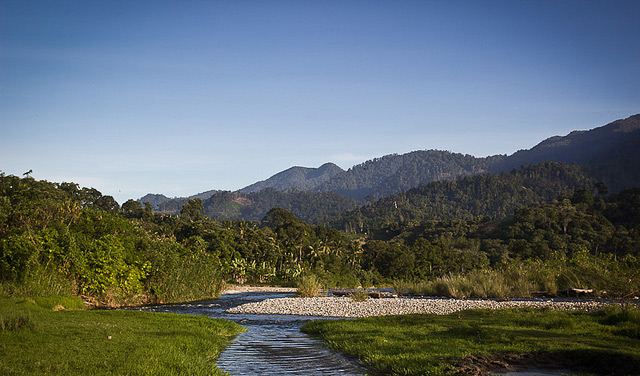 Gunung Leuser National Park (TNGL) is one of Nature Conservation Areas in Indonesia that covering an area of 1,094,692 hectares. The administration is located in two provinces of Aceh and North Sumatra. This forest is dominant in East Aceh, South Aceh and Langkat North Sumatra; it known by the results of world-class coffee and tobacco.
Those who love to travel can start the adventure in this national park through Bukit Lawang, North Sumatra, where there are the impresive of orangutan that live inside the forest. Gunung Leuser forest also has a wealth of tropical fruits such as mango, rambutan, durian, avocado, orange, papaya, and guava.
Gunung Leuser National Park and the surrounding area are known as the Leuser Ecosystem which became a UNESCO World Heritage Site. There are approximately 130 species can be identified in Gunung Leuser National Park, namely: Sumatran tigers, elephants, rhinos, gibbons, monkeys, leopards, reptiles, fish, and 325 species of birds.
This park has the highest peak of 3,381 m and is one of the largest national parks in Indonesia and most diverse area of 7,927 km² on the northern tip of Sumatra. Gunung Leuser National Park itself takes its name from Mount Leuser (3404 M asl) in Aceh. The National park includes native ecosystems from the coast to the high mountains which are covered with dense forests typical of tropical rain. This place is managed by the zoning system for the purpose of research, science, education, cultivation support, tourism, and recreation.
Gunung Leuser National Park is very broad area, including mangrove forests, swamp forest, lowland rainforest, moss forest, and up to subalpine forest. By the various ecosystems that it has, the national park is actually a group of various nature reserves and forests, which is: Gunung Leuser Nature Reserve, Kappi Nature Reserve, Kluet Nature Reserve, Sikundur-langkat Wildlife Reserve, Ketambe Research Station, West Singkil, and Dolok Sembilin.
This Park covers more than 100 kilometers of the Bukit Barisan Mountains, known for its steep, mountainous terrain condition that is almost inaccessible. The stunning Alas river cut this park into eastern and western parts, where you can find majestic scenery of tropical forests that will pamper your sight.
By sign in to Bukit Lawang, North Sumatra and traveled to Medan is the easiest route to reach Gunung Leuser National Park. Ketambe is also an alternative for entry into the Gunung Leuser National Park. Heading to Ketambe is easier to reach from Medan and Kutacane, a town that close to Ketambe.
You can use the bus from Medan, at Pinang Baris Bus Terminal to Bukit Lawang. It takes 86 km by road to the northwest. To return back to Medan, you can take a minibus or a large bus from Bukit Lawang Bus station. However, you will find the driver offering minivans from the Belawan ferry terminal direct to Bukit Lawang. The prices may vary and be higher than the public transportation.

Latest News
Lake Toba is indeed a favorite tourist destination when visiting North Sumatra. The charm of beauty offered in this lake area is indeed never ending to be explored. One of them is the uniqueness of the 'lake above the lake'. This nickname is familiar to local people and tourists when mentioning Lake Sidihoni, which is in the Lake Toba area. This lake is located on Samosir Island, which is an island in the middle of Lake Toba. That's why, this lake nicknamed is the 'lake above the lake'. Here are…
---
For those of you who come to Nias Island for your next vacation, it is better to find information about attractions that were previously available. As for reference, the beautiful beach is in West Nias Regency named Sirombu. Usually tour agents will recommend this place to locals and foreigners. The reason is none other than the sunset view. In addition, Sirombu Beach is also equipped with amazing facilities and surroundings. Not surprisingly, many people consider it the best vacation spot in West Nias Regency. It is true that Sirombu Beach…
---
What makes Indonesia is a worthy vacation destination? Many travelers are impressed by nature beauty of the country. Moreover, there is a famous tourist spot in North Sumatra Province, which is called Toba Lake. Being the biggest lake in Indonesia, Toba becomes the signature tourism in Sumatra Island. It is because the flawless nature and pristine water would satisfy all visitors. People come to the lake to enjoy a family recreation, sightseeing, photography, and exploration. The fact is many different tourist spots are scattered around the lake. Tourists can explore…
---
Bohorok Rehabilitation Center Bohorok Rehabilitation Center is a shelter for Orangutan in Sumatra that settled in Bukit Lawang. Bukit Lawang is one of the top destinations in Sumatra; Bukit Lawang is a small village on the edge of Gunung Leuser National Park in North Sumatra. Situated around 90 km north-west of Medan along the clear Bohorok River and on the outskirts of the tropical rainforest. As we know, The Gunung Leuser National Park is also one of the homes to Orangutan that spread in entire Sumatra Island. Thomas Leaf monkeys, Black Gibbons, White…
---