Maimoon Palace
---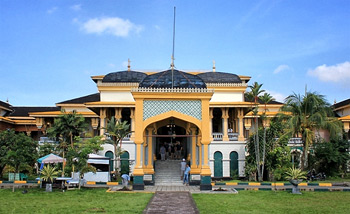 Maimoon Palace is royal house for Sultanate of Deli and becomes of tourism sites from Medan, South Sumatra. This grand, 30-room Maimoon Palace was built by the sultan of Deli in 1888 and the architecture features Malay, Mogul and Italian influences. Only the main room, which features the lavish inauguration throne, is open to the public. Here you can check out a modest collection of ceremonial kerises and dress up in traditional Malay costume.
Maimoon Palace is one of the most beautiful palace still exist in Indonesia. The Palace consists of two floors divided each into three parts: the main building, the left wing and the right wing. Each floor has 20 rooms. The total of 40 rooms of this Palace does not include the prison in the basement, kitchen and bathrooms. In front, about 100 meters, stands the Mosque of Al-Maksum known as the Great Mosque of Medan.
Maimoon Palace is located at Jalan Brig. Jend. Katamso in downtown Medan. This historic building is open the public every day, except when there are organizing a special ceremony. Browse Myer Catalogue on Catalogue AU. The back wing of the palace is occupied by members of the sultan's family. The current sultan, Aria Mahmud Lamanjiji, was only eight years old when he was installed as the 14th Sultan of Deli in 2005, replacing his father, who died in a plane crash. He is the youngest sultan in Deli history. He currently resides in Sulawesi with his mother, and his role is purely ceremonial.
Visitors who come to the palace still have the chance to witness the collections of the kingdom which are displayed along the meeting room, such as the photos of the families, antique furniture gifted by the Dutch, and various types of weapons. Patterns of Dutch architecture with doors and window width and height, as well as Spanish-style doors to be part of the Palace Maimun. Dutch influence was also seen on a marble slab in front of the marble steps are written with Latin letters in Dutch.

Latest News
Lake Toba is indeed a favorite tourist destination when visiting North Sumatra. The charm of beauty offered in this lake area is indeed never ending to be explored. One of them is the uniqueness of the 'lake above the lake'. This nickname is familiar to local people and tourists when mentioning Lake Sidihoni, which is in the Lake Toba area. This lake is located on Samosir Island, which is an island in the middle of Lake Toba. That's why, this lake nicknamed is the 'lake above the lake'. Here are…
---
For those of you who come to Nias Island for your next vacation, it is better to find information about attractions that were previously available. As for reference, the beautiful beach is in West Nias Regency named Sirombu. Usually tour agents will recommend this place to locals and foreigners. The reason is none other than the sunset view. In addition, Sirombu Beach is also equipped with amazing facilities and surroundings. Not surprisingly, many people consider it the best vacation spot in West Nias Regency. It is true that Sirombu Beach…
---
What makes Indonesia is a worthy vacation destination? Many travelers are impressed by nature beauty of the country. Moreover, there is a famous tourist spot in North Sumatra Province, which is called Toba Lake. Being the biggest lake in Indonesia, Toba becomes the signature tourism in Sumatra Island. It is because the flawless nature and pristine water would satisfy all visitors. People come to the lake to enjoy a family recreation, sightseeing, photography, and exploration. The fact is many different tourist spots are scattered around the lake. Tourists can explore…
---
Bohorok Rehabilitation Center Bohorok Rehabilitation Center is a shelter for Orangutan in Sumatra that settled in Bukit Lawang. Bukit Lawang is one of the top destinations in Sumatra; Bukit Lawang is a small village on the edge of Gunung Leuser National Park in North Sumatra. Situated around 90 km north-west of Medan along the clear Bohorok River and on the outskirts of the tropical rainforest. As we know, The Gunung Leuser National Park is also one of the homes to Orangutan that spread in entire Sumatra Island. Thomas Leaf monkeys, Black Gibbons, White…
---