North Sumatra
---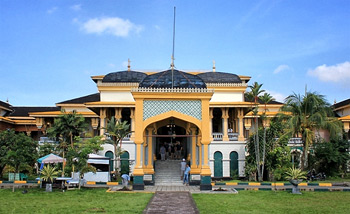 Relative to Bali, North Sumatra has very heterogeneous ethnic groups, and thus, cultures. The people of the eastern coasts, also known as the Malays (Melayu) have markedly different traditions and culture from Batak highlanders who live around Toba Lake and Samosir Island. Further south, the Mandailings and Angkolas, and Nias Island, have yet more flavors of traditions and culture. Besides them, there are several ethnic groups who live in Medan and other towns of North Sumatra. Its largest groups are Chinese and Indian, who being naturalized Indonesian citizens. Other Indonesian tribes like Acehnese, Minangkabau, Javanese, etc also live in many parts here. Each of the mentioned tribes as well as the ethnic groups has its own dialect, religion, beliefs, traditional customs, etc. Arts and cultures make this region, a paradise for social scientists. Among the ancient Indonesian cultures, which can be seen at Samosir Island, are the centuries old tombs of Batak Toba kings and a stone-table with its benches, where the Siallagan chiefs formerly held meetings.
Geographically
North Sumatra province has 70,787 sq km width. Geographically, it is located between 1o and 4o North Latitude and between 98o and 100o East Longitude. The area is Borders with:
North side: the special territory of Aceh South side: West Sumatra Province and Riau Province West side: Indian Ocean East side: Malacca Strait
Administratively
North Sumatra Province is divided among 11 regencies, 6 municipals, and 3 administrative towns with Medan as its capital city.
Geology
Composed of coastal areas, lowlands, plateaus, and mountains. Humidity: Varies between 79% and 96%. Climate As one of Indonesia islands, North Sumatra has rainfall of 1,100-3,400 mm per year. It temperature is range between 18o C and 34o C.
Demography
Historically, North Sumatra Province has a migration flow of population either from other provinces because of the existence of heavy plantation in this province or migration to other areas for studying and expanding business. Since population mobility is high, there are multi ethnics on the community. In 1994, the population density of North Sumatra Province reached 157 people per Km2. Compared to the average national population growth (2.144% per year), this province was on the lower level with 1.53% per year. The projection population composition in 1997 can be seen on the following table.

Latest News
Lake Toba is indeed a favorite tourist destination when visiting North Sumatra. The charm of beauty offered in this lake area is indeed never ending to be explored. One of them is the uniqueness of the 'lake above the lake'. This nickname is familiar to local people and tourists when mentioning Lake Sidihoni, which is in the Lake Toba area. This lake is located on Samosir Island, which is an island in the middle of Lake Toba. That's why, this lake nicknamed is the 'lake above the lake'. Here are…
---
For those of you who come to Nias Island for your next vacation, it is better to find information about attractions that were previously available. As for reference, the beautiful beach is in West Nias Regency named Sirombu. Usually tour agents will recommend this place to locals and foreigners. The reason is none other than the sunset view. In addition, Sirombu Beach is also equipped with amazing facilities and surroundings. Not surprisingly, many people consider it the best vacation spot in West Nias Regency. It is true that Sirombu Beach…
---
What makes Indonesia is a worthy vacation destination? Many travelers are impressed by nature beauty of the country. Moreover, there is a famous tourist spot in North Sumatra Province, which is called Toba Lake. Being the biggest lake in Indonesia, Toba becomes the signature tourism in Sumatra Island. It is because the flawless nature and pristine water would satisfy all visitors. People come to the lake to enjoy a family recreation, sightseeing, photography, and exploration. The fact is many different tourist spots are scattered around the lake. Tourists can explore…
---
Bohorok Rehabilitation Center Bohorok Rehabilitation Center is a shelter for Orangutan in Sumatra that settled in Bukit Lawang. Bukit Lawang is one of the top destinations in Sumatra; Bukit Lawang is a small village on the edge of Gunung Leuser National Park in North Sumatra. Situated around 90 km north-west of Medan along the clear Bohorok River and on the outskirts of the tropical rainforest. As we know, The Gunung Leuser National Park is also one of the homes to Orangutan that spread in entire Sumatra Island. Thomas Leaf monkeys, Black Gibbons, White…
---