Wera Tourism Park
---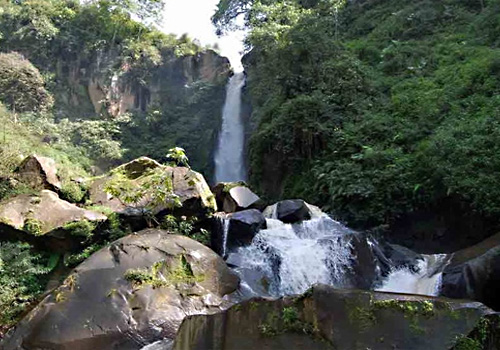 Wera Park is one of the famous tourist attractions Central Sulawesi, in the form of waterfall and genuine small forest; administratively, this place is located in Balumpewa Village, Dolo District, Sigi Regency. If you want to visit this park is easy because there is a paved road that connects the city of Palu with villages around the site, such as the Balumpewa Village that takes about 1 km from the highway. From Palu city to Balumpewa village that has distance about 19 km, is can be reached by public transportation or rented one for about 45 minutes. Furthermore, from the Balumpewa village to the waterfall that reach within 2 km, is can be done by walking.
Wera Park is mostly a hilly area and has slopes to steep topography, with a slope around 60% to 95%. There is a narrow valley and becomes the flow of Wera River and lies in flat location and settled in the bottom and Balumpewa village, with the height of the surface sea around 150 m - 800 m above sea level. Moreover, there is also Montokole Hot Springs, around 2 km to the South of Wera Park.
If you give visit to this Park, then you can enjoy the cool air while enjoying the beauty of waterfalls that gush from the cliff. Wera waterfall has a height about 80 m with a slope that falls between 70 ° - 80 °, this situation will be more enchanting and it presents a beautiful view.
In this park, you can also see a diversity of flora and fauna that live in the park, the flora we can find is walnut / ntoli (canarium aspermun), bintangur (Callophylum sp.), Lebanu ( nauclea sp.), banyan (ficus benyamina), lei (palagulum javanicum), as well as some epiphytic plants, such as orchids, and nest ferns (Asplenium nidus). Meanwhile, types of animals that can be found in the Park is relatively few, only some species of mammals, aves and insects among other things: the black monkey Sulawesi (Macaca tonkeana), Kus-kus (Phalanger ursinus), Tarsier (Tarsius spectrum), Bird cassowary, Crow (Aceros cassidix), jungle fowl (Gallus-gallus) and several species of butterflies are settled here.

Latest News
Palu City is the capital of Central Sulawesi Province. Geographically, Palu City is located on the plains of Palu valley and Palu bay so that its territory consists of five different landscapes such as mountains, valleys, rivers, bays, and oceans. Palu city has a beautiful hill called Bukit Perindu. The beauty of this hill always makes you miss the view of Palu. Always longing, as if the paragraph became a story, a charmer of the heart. Formerly the Perindu Hill called Sofa Hill was in Tanah Runtuh area. Lately it…
---
Togean Island Spread over a 90 km stretch in the middle of Tomini Bay, the winding, hilly coastlines and equatorial waters of the Togean Islands cast a magical spell of green, yellow and blue, in all the shades imaginable. The Togean or Togian Islands are an archipelago of 56 islands and islets, in the Gulf of Tomini, off the coast of Central Sulawesi, in Indonesia. The three largest islands are Batudaka, Togian, and Talatakoh. There are 37 villages on the islands. The dark green of the islands and the cristal…
---
Tolitoli Toli-Toli or Tolitoli regency is one of regencies in Central Sulawesi. The capital city is located in Tolitoli city. Under the Law no. 51 In 1999 this area is divided into two districts; Tolitoli as the parent district, and Buol District as a result of splitting the district. According to the folk legend, the name Tolitoli comes from the word Totolu, which means Three. Tolitoli nation comes from three heaven men who incarnates to earth through Olisan Bulan (Golden Bamboo), Bumbung Lanjat (Langsat Peak Tree), and Ue Saka (A…
---
Palu City Palu is a city and also the capital city of Central Sulawesi province. Palu is divided into 4 Sub-district and 43 Kelurahan or the smaller area, it officially divided into West Palu, East Palu, North and South Palu. The most inhabitant who live in Palu is the indigenous of Kaili People, and some of minor ethnics like Bugis, Sangir, Makassar, Banjar, or Javanese. Kaili tribe inhabiting hereditary Palu valley area, Parigi, Tomini Bay, and coastal Tojo, Ampana, and Poso. To state "the Kaili" it mentioned in the Kaili…
---