Megalithicum Stones at Bada Valley
---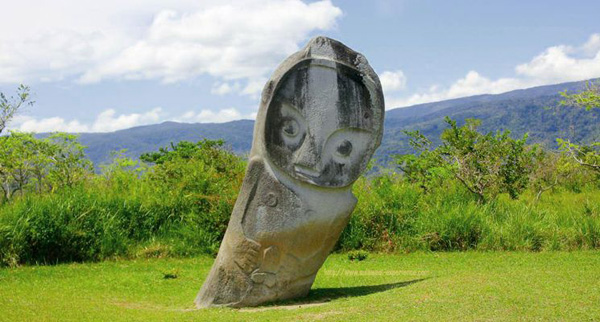 Central Sulawesi is the island that keeps every beautiful thing in case of natural sightseeing and the ancient heritages. One of the ancient heritages that we can see in the megalithic stones that settled in Bada Valley.
Located in Poso and part of Lore Lindu National Park, there are numbers of ancient stones that standing along the paddy field and green prairie. In addition to Bada Valley, these stone is also spread along Napu Valley, Besoa Valley and Baso Valley.
Those megalithic rocks have beautiful shapes that unfold throughout the valley areas. The shaped is carving humans, animals, Kalamba and much more. According to existing sources, the numbers of megalithic stones have 1,451 pieces. These rocks are relic of pre-history that was allegedly older than Borobudur temple, but no one has to know the purpose and usefulness of these rocks at that time.
The area of Lore Lindu National Park is dominated by mountainous granite rocks. When we see from above, we can see pretty rock that forms large carving. These megalithic rocks have large size, even the biggest reach diameter of 4 meters.
The most famous Megalithic rock in Bada Valley is Watu Palindo at tilt position. The name of Watu Pelindo is Palindoarca, which means entertainer. This is true, because this stone seems having happy and cheerful face and friendly. The Palindo stone is indicating the impression of friendliness, a typical of children character. The stone reaches 4 meters high, and it has carved oval-shaped body, round eyes and a big nose that extends downward.
In addition to Watu Palindo, there is other famous rock in figure of woman named Langka Bulawa. Langka Bulawa means the Queen with gold anklet. This rock has similar carving to Watu Palindo but have impressions of leader expression from Poso People. Both of the statues is located approximately 5 kilometers away. However, the source of the artist that made these stones is still unknown.
To reach Lore Lindu National Park we can use private car. If you start the trip from Palu we can seek direction to Tantena City that can be taken during 7-9 hour drive. From Tantena to the Bada Valley is can be reached during 3 hours trip. It is advisable to use private car with good condition because the access road when it raining will be muddy.

Latest News
Palu City is the capital of Central Sulawesi Province. Geographically, Palu City is located on the plains of Palu valley and Palu bay so that its territory consists of five different landscapes such as mountains, valleys, rivers, bays, and oceans. Palu city has a beautiful hill called Bukit Perindu. The beauty of this hill always makes you miss the view of Palu. Always longing, as if the paragraph became a story, a charmer of the heart. Formerly the Perindu Hill called Sofa Hill was in Tanah Runtuh area. Lately it…
---
Togean Island Spread over a 90 km stretch in the middle of Tomini Bay, the winding, hilly coastlines and equatorial waters of the Togean Islands cast a magical spell of green, yellow and blue, in all the shades imaginable. The Togean or Togian Islands are an archipelago of 56 islands and islets, in the Gulf of Tomini, off the coast of Central Sulawesi, in Indonesia. The three largest islands are Batudaka, Togian, and Talatakoh. There are 37 villages on the islands. The dark green of the islands and the cristal…
---
Tolitoli Toli-Toli or Tolitoli regency is one of regencies in Central Sulawesi. The capital city is located in Tolitoli city. Under the Law no. 51 In 1999 this area is divided into two districts; Tolitoli as the parent district, and Buol District as a result of splitting the district. According to the folk legend, the name Tolitoli comes from the word Totolu, which means Three. Tolitoli nation comes from three heaven men who incarnates to earth through Olisan Bulan (Golden Bamboo), Bumbung Lanjat (Langsat Peak Tree), and Ue Saka (A…
---
Palu City Palu is a city and also the capital city of Central Sulawesi province. Palu is divided into 4 Sub-district and 43 Kelurahan or the smaller area, it officially divided into West Palu, East Palu, North and South Palu. The most inhabitant who live in Palu is the indigenous of Kaili People, and some of minor ethnics like Bugis, Sangir, Makassar, Banjar, or Javanese. Kaili tribe inhabiting hereditary Palu valley area, Parigi, Tomini Bay, and coastal Tojo, Ampana, and Poso. To state "the Kaili" it mentioned in the Kaili…
---