Poya Lisa Island
---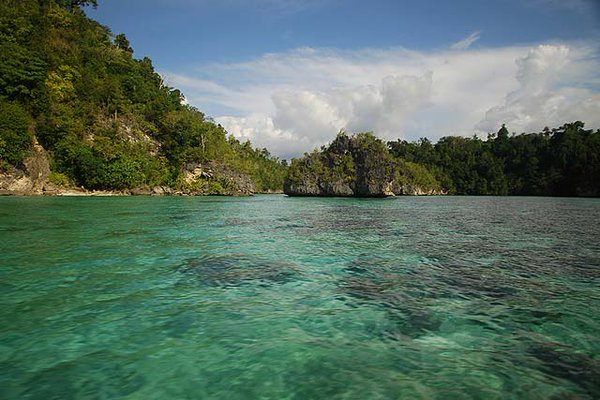 The island is still in the area of Togean Islands National Park in Ampana, Tojo Una-Una, Central Sulawesi province. Even so, the island is very rarely be mentioned in the travel map of Togean National Park area.
Poya Lisa is a small and private island. The island is owned and managed directly by Mr. Ismail, a registered nurse in Bomba. It said that this is island was called Pulau Poya. Poya itself is the name of the person who first planted coconut trees on the island, making him as the owner of the island. Mr. Ismail recently purchased the island from Poya offspring that inherit the island.
Meanwhile, Lisa is the name from German tourist who had come and spends her time on the island for a month. Being impressed by the beauty of this island, this tourist is begging for Mr. Ismail perpetuates his name on this island. So that this small island now known as Pulau Poya Lisa.
Poya Lisa Island has white sandy beach and clear blue sea water. The lip of the beach is also overgrown with green trees that look refreshing. In this place, you can freely do activities like snorkeling, diving or touring the island by boat. It is certain that you will see stunning underwater scenery just like the surrounding. The island is a private island, so it is only inhabited by the manager and his relatives only. This makes the atmosphere on the island is very quiet and peacefull. This place will be the right place to find tranquility.
On the island there are few cottages that directly managed by Mr. Ismail. The rent cost is around Rp 150,000 per night / person and includes meal for three times a day. The clean water and sanitation facilities are also available on the island. Unfortunately, the electricity on the island is only available from 18.00 until 24.00 pm. The same thing is also happen to the cellular signal that appears to be difficult to catch. But it does not reduce any comfort on this island.
To go to this island, we can go through the city of Palu by using the route of Palu - Ampana - Bomba Island - Poya Lisa Island. From Palu, we can use land vehicles heading to Ampana, Toja Una-una regency, Central Sulawesi. From Ampana, we can hire a speedboat or small boat to get to the Bomba Island, and it takes 2 hours drive. Well, from Bomba Island, we continue to Pulau Poya Lisa around ten minute drive.

Latest News
Palu City is the capital of Central Sulawesi Province. Geographically, Palu City is located on the plains of Palu valley and Palu bay so that its territory consists of five different landscapes such as mountains, valleys, rivers, bays, and oceans. Palu city has a beautiful hill called Bukit Perindu. The beauty of this hill always makes you miss the view of Palu. Always longing, as if the paragraph became a story, a charmer of the heart. Formerly the Perindu Hill called Sofa Hill was in Tanah Runtuh area. Lately it…
---
Togean Island Spread over a 90 km stretch in the middle of Tomini Bay, the winding, hilly coastlines and equatorial waters of the Togean Islands cast a magical spell of green, yellow and blue, in all the shades imaginable. The Togean or Togian Islands are an archipelago of 56 islands and islets, in the Gulf of Tomini, off the coast of Central Sulawesi, in Indonesia. The three largest islands are Batudaka, Togian, and Talatakoh. There are 37 villages on the islands. The dark green of the islands and the cristal…
---
Tolitoli Toli-Toli or Tolitoli regency is one of regencies in Central Sulawesi. The capital city is located in Tolitoli city. Under the Law no. 51 In 1999 this area is divided into two districts; Tolitoli as the parent district, and Buol District as a result of splitting the district. According to the folk legend, the name Tolitoli comes from the word Totolu, which means Three. Tolitoli nation comes from three heaven men who incarnates to earth through Olisan Bulan (Golden Bamboo), Bumbung Lanjat (Langsat Peak Tree), and Ue Saka (A…
---
Palu City Palu is a city and also the capital city of Central Sulawesi province. Palu is divided into 4 Sub-district and 43 Kelurahan or the smaller area, it officially divided into West Palu, East Palu, North and South Palu. The most inhabitant who live in Palu is the indigenous of Kaili People, and some of minor ethnics like Bugis, Sangir, Makassar, Banjar, or Javanese. Kaili tribe inhabiting hereditary Palu valley area, Parigi, Tomini Bay, and coastal Tojo, Ampana, and Poso. To state "the Kaili" it mentioned in the Kaili…
---