Tanjung Karang Beach
---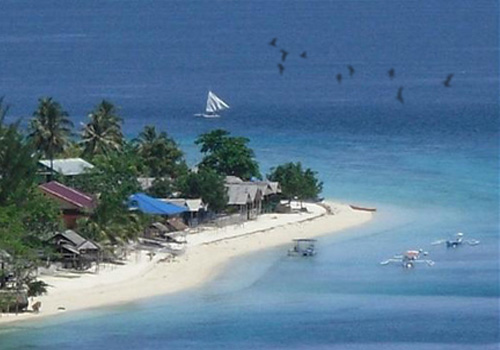 As seen on the name of this place, Tanjung Karang Beach is refer to the rich line up of coral reefs. Tanjung Karang is located in the bay of Palu, and administratively part of Donggala city. Pantai Tanjung Karang becomes one of favorite destination for Palu residents.
Tanjung Karang is about 40 kilo meters from the center of Palu, with paving road of Trans Sulawesi will seamlessly facilitate the tourists to get to the area easily. Tanjung Karang is very beautiful to be enjoyed at night because the multicolored lights that twinkling in the distance, in addition to light of a lighthouse that built by the Department of Transportation in the corner of the headland.
Tanjung Karang is not suitable for surfing because it has a calm and friendly waves and white sandy beach for leisure and relaxing the mind. Those who love diving and snorkeling, this area is very suitable because the water is very clear and it known to be rich in coral reefs. In addition, tourists can enjoy the open views across the bay of Palu and Makassar Strait with the flurry of boats that coming in and out of Pantoloan harbor and fishing boats Palu bay.
Airport in Tanjung Karang is also involves atoll in the center of the sea, the beach area is directly opposite the Makassar Strait waters at a distance for about 11 kilometers. That coral Island will appear in the middle of the ocean around 16:00 that last up to several hours.
Doing snorkeling will be so much fun at this place and if you do not bring your own equipment, you can rent for Rp 10,000. You can enjoy the coral reefs which is only about one kilometer from the beach.
Here also provides scuba diving or boat that designed specifically to see the beautiful coral reefs for Rp. 50,000 per group. The route of the boat covering Anchor Reef, Natural Reef, Green Wall, Irmis Block, Alex Point and Rocky Point within 500 meters.

Latest News
Palu City is the capital of Central Sulawesi Province. Geographically, Palu City is located on the plains of Palu valley and Palu bay so that its territory consists of five different landscapes such as mountains, valleys, rivers, bays, and oceans. Palu city has a beautiful hill called Bukit Perindu. The beauty of this hill always makes you miss the view of Palu. Always longing, as if the paragraph became a story, a charmer of the heart. Formerly the Perindu Hill called Sofa Hill was in Tanah Runtuh area. Lately it…
---
Togean Island Spread over a 90 km stretch in the middle of Tomini Bay, the winding, hilly coastlines and equatorial waters of the Togean Islands cast a magical spell of green, yellow and blue, in all the shades imaginable. The Togean or Togian Islands are an archipelago of 56 islands and islets, in the Gulf of Tomini, off the coast of Central Sulawesi, in Indonesia. The three largest islands are Batudaka, Togian, and Talatakoh. There are 37 villages on the islands. The dark green of the islands and the cristal…
---
Tolitoli Toli-Toli or Tolitoli regency is one of regencies in Central Sulawesi. The capital city is located in Tolitoli city. Under the Law no. 51 In 1999 this area is divided into two districts; Tolitoli as the parent district, and Buol District as a result of splitting the district. According to the folk legend, the name Tolitoli comes from the word Totolu, which means Three. Tolitoli nation comes from three heaven men who incarnates to earth through Olisan Bulan (Golden Bamboo), Bumbung Lanjat (Langsat Peak Tree), and Ue Saka (A…
---
Palu City Palu is a city and also the capital city of Central Sulawesi province. Palu is divided into 4 Sub-district and 43 Kelurahan or the smaller area, it officially divided into West Palu, East Palu, North and South Palu. The most inhabitant who live in Palu is the indigenous of Kaili People, and some of minor ethnics like Bugis, Sangir, Makassar, Banjar, or Javanese. Kaili tribe inhabiting hereditary Palu valley area, Parigi, Tomini Bay, and coastal Tojo, Ampana, and Poso. To state "the Kaili" it mentioned in the Kaili…
---