Poso Lake
---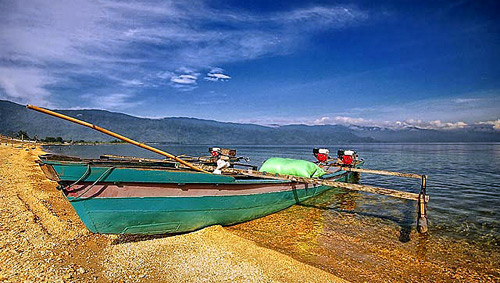 Commonly, we can see white sand in beach shore, but this time, we see the white sand in the edge of a lake. Poso Lake which located in Poso, central Sulawesi, has white sand which cover almost all the lake's shore. White sand in Poso lake is similar to white sand that you usually see in the beach shores. Besides, the edge of Poso Lake is also covered with yellow sand. The yellow sand texture is similar to the white one, with colored yellow.
Poso Lake has 32 km length, and 16 width. Lake Poso is an ancient lake located in the Poso District in Central Sulawesi, and is the third largest lake in Indonesia after Lake Toba and Lake Singkarak in Sumatra. The lake spans across an area of 32,000 hectares, and, with a depth of 515 meters at its the deepest points; it is almost three times deeper than the Java Sea which has a mean depth of 151 meters only.
Located in 657 m above sea level, Poso Lake has amazing scenery. It surrounded by hills and forests, so you can enjoy the lovely view while exhaling fresh air. The white clear sand which reflects sun shine, and the lake's preserved ecosystem, has made the panorama looks even fresher.
Poso Lake has a very clear water. Even in rainy season, when the rivers that end up in this lake, are carrying flood, Poso Lake remains clear and not muddy. In this lake, you will also find situations which are not so different as when you're in beach shore. The clear green water in the edge, and the blue clear water in the middle of the lake, will make you feel as if you're in a beautiful beach shore. Don't forget to bring your change clothes if you visit this lake, because you will definitely want to swim in its calm and clean water.
Lying just north of the Toraja highlands in South Sulawesi, Lake Poso is bordered by thePendolo town at the south end of the lake and Tentena at the north, with several smaller villages scattered in between. The water of the lake pours in a river and out into the Tomini Bay by the town of Poso.
Around the lake, there will be silver and yellow eels criss-cross the lake together with two endemic species of fish. The center of the lake is crystal blue, outlined by a shade of green and bordered with soft white and golden sands. Rolling hills surround this enchanting lake, covered with stretches of bright, green rice fields, fragrant clove trees and tropical forests. Moreover, here are found anoas and babirusa (wild boar), the endemic animal to Sulawesi.
In some places, we will find groups of huge rocks which likely come out from inside of the lake, as it's a floating rock complex. The local people call the rock complex as Watu Ngonggi and Watu Mpangasa Angga. Watu Ngonggi is a collection of rocks which will make a sound when it is been hit. Around Poso Lake, in the area of Tentena village, you can also see some caves. Those caves are quite deep. Some of the cave's depth even reaches into the lake's bottom.
How to get there
The nearest transport hubs are Makassar in South Sulawesi and Manado in North Sulawesi, both of which have domestic flights from all the major cities around Indonesia, and a few International flights; from Manado to Singapore and Davao in The Philippines, and from Makassar to Singapore and Kuala Lumpur, Malaysia.
Both of the airports listed above have flights to Palu, a city in the west of Central Sulawesi. Mutiara Airport in Palu is a domestic only airport with flights available from Jakarta, Surabaya, Balikpapan, Manado and Makassar.
From 15 June 2012 Batavia Air flies Jakarta-Palu daily, leaving Jakarta at 02.45 am West Indonesia Time, arriving Palu at 06.25 Central Indonesia Time. The return flight leaves Palu at 07.00 am and arrives Jakarta 08.40 am local time.
Alternatively, Sulawesi is extremely well-connected by sea, if you prefer the more scenic, and much longer route over water from the ports of Manado or Makassar to Palu. From Palu, continue over land to the lake via bus, rented car or motorcycle. The drive is about 280 kilometers and will take approximately 8 hours.

Latest News
Palu City is the capital of Central Sulawesi Province. Geographically, Palu City is located on the plains of Palu valley and Palu bay so that its territory consists of five different landscapes such as mountains, valleys, rivers, bays, and oceans. Palu city has a beautiful hill called Bukit Perindu. The beauty of this hill always makes you miss the view of Palu. Always longing, as if the paragraph became a story, a charmer of the heart. Formerly the Perindu Hill called Sofa Hill was in Tanah Runtuh area. Lately it…
---
Togean Island Spread over a 90 km stretch in the middle of Tomini Bay, the winding, hilly coastlines and equatorial waters of the Togean Islands cast a magical spell of green, yellow and blue, in all the shades imaginable. The Togean or Togian Islands are an archipelago of 56 islands and islets, in the Gulf of Tomini, off the coast of Central Sulawesi, in Indonesia. The three largest islands are Batudaka, Togian, and Talatakoh. There are 37 villages on the islands. The dark green of the islands and the cristal…
---
Tolitoli Toli-Toli or Tolitoli regency is one of regencies in Central Sulawesi. The capital city is located in Tolitoli city. Under the Law no. 51 In 1999 this area is divided into two districts; Tolitoli as the parent district, and Buol District as a result of splitting the district. According to the folk legend, the name Tolitoli comes from the word Totolu, which means Three. Tolitoli nation comes from three heaven men who incarnates to earth through Olisan Bulan (Golden Bamboo), Bumbung Lanjat (Langsat Peak Tree), and Ue Saka (A…
---
Palu City Palu is a city and also the capital city of Central Sulawesi province. Palu is divided into 4 Sub-district and 43 Kelurahan or the smaller area, it officially divided into West Palu, East Palu, North and South Palu. The most inhabitant who live in Palu is the indigenous of Kaili People, and some of minor ethnics like Bugis, Sangir, Makassar, Banjar, or Javanese. Kaili tribe inhabiting hereditary Palu valley area, Parigi, Tomini Bay, and coastal Tojo, Ampana, and Poso. To state "the Kaili" it mentioned in the Kaili…
---