Malenge Island
---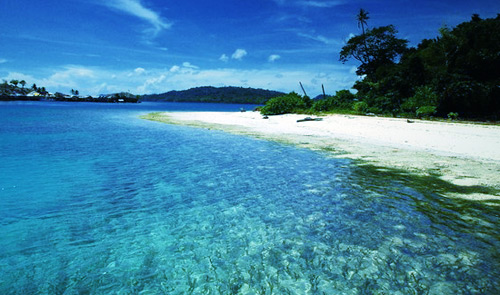 Malenge Island in Togean language mean tired. This island has tremendous beach group and stunning ocean view. Malenge island is unique place with an area that covered by tropical foreat that shady and calming. The life of Bajo people around the island becomes one more attractiveness from this place, here we can see the humble living from these boat men tribe and their awareness about ocean living.
In Malenge Island, there are two villages that inhabited by Bajo People; Malenge village and Kadoda Village. Most of the inhabitants are living as fishermen and copra farmer. In addition to Bajo People, there are Togean people that also inhabited this island; Togen people speaking with Togean language in everyday spoken.
Those who love snorkeling and diving, or even swimming at Togean Islands group is also can do the same activities at Malenge Island. In Malenge, there is a 1 Km bridge that being used to cross local people, especially for kids who want to go to school. The bridge is available since 2006 and it crosses the shallow ocean beneath. The view is also stunning to be enjoyed.
Exploring this island is can be done by using speedboat that we can rent from the nearest location. The destination in Malenge island is Angkailo Island. Angkailo in local language means crab. In fact, this is the right place to learn about Kenari crab, the endemic animal that living in this island.
Those who love outdoor activity, we can do trekking around Melenge Island and exploring the tropical forest in this place. There will be numbers of flora and fauna, like Togean monkey (Macaca Togeannus) and othere primate that living in harmony. From this island, we can visit Kadidiri and Poya Lisa Island, an excluded island that can be visit and have yourself drowning with only the nature and your tranquility.
Malenge Island actually consists of two parts of the island; Papan Island that inhabited by Bajoe tribe and Kadoda Island that includes 8-room cottages. Both islands are linked to the long wooden bridge skyline as far as 1,800 meters.
Here are tips that you need to observe when visiting Malenge that part of Togean National Park, Central Sulawesi.

Dry season is the best time to visit the island and surrounding.
Bring some food, drinks, sunscreen, camera, medicine, flashlights and other needs because there is no shop on the island. For those who do not really like seafood menu, you should bring extra side dishes (dry or instant meals).
Do not forget to bring mosquito repellent creams and anti-malarial drugs.
Make sure you know the scheduled departure / return of the ship that will be your means of transportation. This is because such vessels typically do not operate every day.

Latest News
Palu City is the capital of Central Sulawesi Province. Geographically, Palu City is located on the plains of Palu valley and Palu bay so that its territory consists of five different landscapes such as mountains, valleys, rivers, bays, and oceans. Palu city has a beautiful hill called Bukit Perindu. The beauty of this hill always makes you miss the view of Palu. Always longing, as if the paragraph became a story, a charmer of the heart. Formerly the Perindu Hill called Sofa Hill was in Tanah Runtuh area. Lately it…
---
Togean Island Spread over a 90 km stretch in the middle of Tomini Bay, the winding, hilly coastlines and equatorial waters of the Togean Islands cast a magical spell of green, yellow and blue, in all the shades imaginable. The Togean or Togian Islands are an archipelago of 56 islands and islets, in the Gulf of Tomini, off the coast of Central Sulawesi, in Indonesia. The three largest islands are Batudaka, Togian, and Talatakoh. There are 37 villages on the islands. The dark green of the islands and the cristal…
---
Tolitoli Toli-Toli or Tolitoli regency is one of regencies in Central Sulawesi. The capital city is located in Tolitoli city. Under the Law no. 51 In 1999 this area is divided into two districts; Tolitoli as the parent district, and Buol District as a result of splitting the district. According to the folk legend, the name Tolitoli comes from the word Totolu, which means Three. Tolitoli nation comes from three heaven men who incarnates to earth through Olisan Bulan (Golden Bamboo), Bumbung Lanjat (Langsat Peak Tree), and Ue Saka (A…
---
Palu City Palu is a city and also the capital city of Central Sulawesi province. Palu is divided into 4 Sub-district and 43 Kelurahan or the smaller area, it officially divided into West Palu, East Palu, North and South Palu. The most inhabitant who live in Palu is the indigenous of Kaili People, and some of minor ethnics like Bugis, Sangir, Makassar, Banjar, or Javanese. Kaili tribe inhabiting hereditary Palu valley area, Parigi, Tomini Bay, and coastal Tojo, Ampana, and Poso. To state "the Kaili" it mentioned in the Kaili…
---