Hotels In Central Sulawesi
---
Estrella Hotel & Conference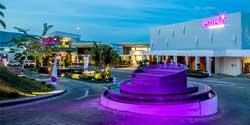 It rests in an idyllic resort setting, amidst and wrapped around a sanctuary lush tropical garden luxury landscape and sparkling sleek pool provide a refreshing place of solitude in Luwuk, Banggai, Central Sulawesi. Estrella offers its unique facilities such as most favored and elegant relaxing lounge & bar, an intimate sensory dining experience venue, luxurious guest room accommodation, advance and sophisticated business center, full range modern equipped meeting, seminar and conference venue and impressive ecological environment for recreational or private parties facilities for up to 1.000 people.
Jl. Mandapar, Kawasan Bukit Halimun, Tj. Tuwis, Luwuk Banggai, Central Sulawesi 94715
Phone: +62 461 3128080
Web: www.estrellahotel.id
Roa Roa Hotel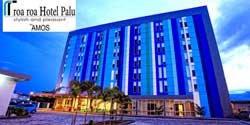 The 3-star business hotel at the heart of Palu City, it offers corporate and leisure travelers to central business and government district. Providing warm hospitality across 8 floors, Roa Roa Hotel is equipped with every convenience to make your stay as Stylish and Pleasant. Having its own restaurant and function room, the hotel is a perfect place for having business lunches and dinners or even corporate conferences. Hotel located only 10 minutes from Mutiara Sis Aljufri Airport and easy access to the shopping malls, Talise Beach, market, restaurants. It also gives the best view of the mountain.
Jl. Pattimura No. 72, Lolu Selatan, Palu Selatan Palu, Central Sulawesi 94111
Indonesia
Phone: +62 451 427777
Web: roaroahotel.com
Rama Garden Hotel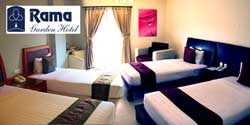 Strategically located in the business hub of Palu. Located just 15 minutes from the airport, it is easily accessible for guests on business trip as well as for leisure. WIth provision of modern-design rooms and low room rates, Rama Garden Hotel is committed to provide utmost satisfaction to guests. Motto of this hotel is "Make yourself at home", aims to ensure guests feel where they truly belong, right at home.
Jl. Tanjung Santigi No. 26, South Lolu Palu, Central Sulawesi 94111
Indonesia
Phone: +62 451 429500
Web: www.hotelramagarden.com
Jazz Hotel Palu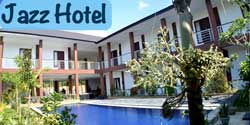 One of the best hotels in Palu with cheap booking. If you are looking for best hotel in Palu, cheap hotel in Palu, and luxury hotel in Palu, you come to the right place! Jazz Hotel Palu is spaciously set within a Balinese concept, providing guests with a modern and classic style with comfortable accommodation, world class facilities and Balinese hospitality.
Jl. Zebra III, Tatura Selatan, South Palu Palu, Central Sulawesi 94111
Indonesia
Phone: +62 451 481085
Web: www.jazzhotelpalu.com

Latest News
Palu City is the capital of Central Sulawesi Province. Geographically, Palu City is located on the plains of Palu valley and Palu bay so that its territory consists of five different landscapes such as mountains, valleys, rivers, bays, and oceans. Palu city has a beautiful hill called Bukit Perindu. The beauty of this hill always makes you miss the view of Palu. Always longing, as if the paragraph became a story, a charmer of the heart. Formerly the Perindu Hill called Sofa Hill was in Tanah Runtuh area. Lately it…
---
Togean Island Spread over a 90 km stretch in the middle of Tomini Bay, the winding, hilly coastlines and equatorial waters of the Togean Islands cast a magical spell of green, yellow and blue, in all the shades imaginable. The Togean or Togian Islands are an archipelago of 56 islands and islets, in the Gulf of Tomini, off the coast of Central Sulawesi, in Indonesia. The three largest islands are Batudaka, Togian, and Talatakoh. There are 37 villages on the islands. The dark green of the islands and the cristal…
---
Tolitoli Toli-Toli or Tolitoli regency is one of regencies in Central Sulawesi. The capital city is located in Tolitoli city. Under the Law no. 51 In 1999 this area is divided into two districts; Tolitoli as the parent district, and Buol District as a result of splitting the district. According to the folk legend, the name Tolitoli comes from the word Totolu, which means Three. Tolitoli nation comes from three heaven men who incarnates to earth through Olisan Bulan (Golden Bamboo), Bumbung Lanjat (Langsat Peak Tree), and Ue Saka (A…
---
Palu City Palu is a city and also the capital city of Central Sulawesi province. Palu is divided into 4 Sub-district and 43 Kelurahan or the smaller area, it officially divided into West Palu, East Palu, North and South Palu. The most inhabitant who live in Palu is the indigenous of Kaili People, and some of minor ethnics like Bugis, Sangir, Makassar, Banjar, or Javanese. Kaili tribe inhabiting hereditary Palu valley area, Parigi, Tomini Bay, and coastal Tojo, Ampana, and Poso. To state "the Kaili" it mentioned in the Kaili…
---