Sulewana Waterfall
---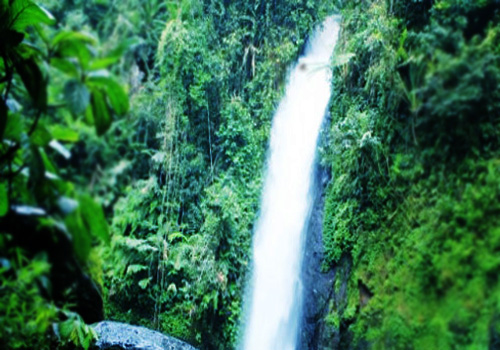 Sulewana Waterfall or commonly referred by local people under the name of Air Luncur Sulewana or Sulewana watersliding is one tourist attractions in Sulewana village, North Pamona, Poso, Central Sulawesi. The name comes from the waterfall with local language consists of two words; Sule means the heart and Wana means forest. The flow of the water comes from Lake Poso, which is about twelve kilometers.
This waterfall is also has a large water discharge and very heavy so that apart from being a tourist spot, the waterfall is also becomes a source of electricity generation with a magnitude up to 800 Mw. Even the sound of the flowing water can be heard from a distance for about 500 m.
There is a pool at the bottom of the waterfall. But if you want to play in this pool, you should stay just below the falls since the water slide is very heavy. There are other ways to enjoy this Sulewana waterfall by enjoying it from the cliff of the waterfall. If we had been in Poso Lake in Tentena, then a trip to Sulewana will be easily reached by using a motor vehicle. The distance is about twelve kilometers. Then the journey can continue by walking as far as three kilometers. This trip will be paid after we get to the Sulewana waterfall.

Latest News
Palu City is the capital of Central Sulawesi Province. Geographically, Palu City is located on the plains of Palu valley and Palu bay so that its territory consists of five different landscapes such as mountains, valleys, rivers, bays, and oceans. Palu city has a beautiful hill called Bukit Perindu. The beauty of this hill always makes you miss the view of Palu. Always longing, as if the paragraph became a story, a charmer of the heart. Formerly the Perindu Hill called Sofa Hill was in Tanah Runtuh area. Lately it…
---
Togean Island Spread over a 90 km stretch in the middle of Tomini Bay, the winding, hilly coastlines and equatorial waters of the Togean Islands cast a magical spell of green, yellow and blue, in all the shades imaginable. The Togean or Togian Islands are an archipelago of 56 islands and islets, in the Gulf of Tomini, off the coast of Central Sulawesi, in Indonesia. The three largest islands are Batudaka, Togian, and Talatakoh. There are 37 villages on the islands. The dark green of the islands and the cristal…
---
Tolitoli Toli-Toli or Tolitoli regency is one of regencies in Central Sulawesi. The capital city is located in Tolitoli city. Under the Law no. 51 In 1999 this area is divided into two districts; Tolitoli as the parent district, and Buol District as a result of splitting the district. According to the folk legend, the name Tolitoli comes from the word Totolu, which means Three. Tolitoli nation comes from three heaven men who incarnates to earth through Olisan Bulan (Golden Bamboo), Bumbung Lanjat (Langsat Peak Tree), and Ue Saka (A…
---
Palu City Palu is a city and also the capital city of Central Sulawesi province. Palu is divided into 4 Sub-district and 43 Kelurahan or the smaller area, it officially divided into West Palu, East Palu, North and South Palu. The most inhabitant who live in Palu is the indigenous of Kaili People, and some of minor ethnics like Bugis, Sangir, Makassar, Banjar, or Javanese. Kaili tribe inhabiting hereditary Palu valley area, Parigi, Tomini Bay, and coastal Tojo, Ampana, and Poso. To state "the Kaili" it mentioned in the Kaili…
---