Una-Una Island Islands
---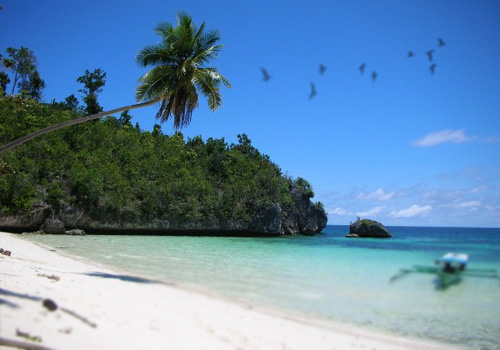 Pulau Una-Una is an extremely remote island adjacent to the Togean National Park in the Gulf of Tomini, in Central Sulawesi, close to Kadidiri Island, a world famous dive site.
Una-Una was formed by the short, broad Colo Volcano, whose summit rises just 500 meters above sea level, with a 2 kilometer wide caldera. Una Una is a lush and scenic island and is indeed a direct result of the Colo Volcano's eruption. One interesting by-product of the island's volcanic nature is that unlike the pure, white sands of the other islands in Tomini Gulf, Una-Una's beaches are a striking black.
Throughout history, there are only three eruptions have been recorded from Mount Colo, with two of them causing damage. In 1983, after over 80 years of dormancy, a powerful eruption burst from Mount Colo. Thick, yellow clouds rose 5 kilometers into the air, with volcanic ash reaching as far as East Kalimantan. Pyroclastic flows swept across the island, destroying everything in its path. Many settlements were completely devastated and hot clouds destroyed all plant species on the island. Only a narrow strip of vegetation and villages along the island's east coast remained undamaged.
Six months prior to the eruption, the volcano began to show activity, giving the island's residents the opportunity to be gradually evacuated to the surrounding islands. There were no casualties, and Mount Colo has not erupted since.
Una-Una remained uninhabited for some time, but after a few years, people gradually began returning to rebuild their lives. Initially, they only came to start agricultural production, but over time they once again began building homes. Although Colo volcano is still active and could erupt at any time, this did not dampen the desire of Una Una's previous inhabitants to return home.
Several changes have taken place on the island since the eruption. As a sort of blessing in disguise, the volcanic ash and lava which covered Una Una has created an island of extremely fertile soil. Additionally, its deer population has increased drastically to estimated tens of times higher than before. The phenomenon may have possibly been caused by the demise of many deer predators. Island residents now raise elk for every day needs such as food and clothing.

Latest News
Palu City is the capital of Central Sulawesi Province. Geographically, Palu City is located on the plains of Palu valley and Palu bay so that its territory consists of five different landscapes such as mountains, valleys, rivers, bays, and oceans. Palu city has a beautiful hill called Bukit Perindu. The beauty of this hill always makes you miss the view of Palu. Always longing, as if the paragraph became a story, a charmer of the heart. Formerly the Perindu Hill called Sofa Hill was in Tanah Runtuh area. Lately it…
---
Togean Island Spread over a 90 km stretch in the middle of Tomini Bay, the winding, hilly coastlines and equatorial waters of the Togean Islands cast a magical spell of green, yellow and blue, in all the shades imaginable. The Togean or Togian Islands are an archipelago of 56 islands and islets, in the Gulf of Tomini, off the coast of Central Sulawesi, in Indonesia. The three largest islands are Batudaka, Togian, and Talatakoh. There are 37 villages on the islands. The dark green of the islands and the cristal…
---
Tolitoli Toli-Toli or Tolitoli regency is one of regencies in Central Sulawesi. The capital city is located in Tolitoli city. Under the Law no. 51 In 1999 this area is divided into two districts; Tolitoli as the parent district, and Buol District as a result of splitting the district. According to the folk legend, the name Tolitoli comes from the word Totolu, which means Three. Tolitoli nation comes from three heaven men who incarnates to earth through Olisan Bulan (Golden Bamboo), Bumbung Lanjat (Langsat Peak Tree), and Ue Saka (A…
---
Palu City Palu is a city and also the capital city of Central Sulawesi province. Palu is divided into 4 Sub-district and 43 Kelurahan or the smaller area, it officially divided into West Palu, East Palu, North and South Palu. The most inhabitant who live in Palu is the indigenous of Kaili People, and some of minor ethnics like Bugis, Sangir, Makassar, Banjar, or Javanese. Kaili tribe inhabiting hereditary Palu valley area, Parigi, Tomini Bay, and coastal Tojo, Ampana, and Poso. To state "the Kaili" it mentioned in the Kaili…
---