Peling Island in Banggai Archipelago
---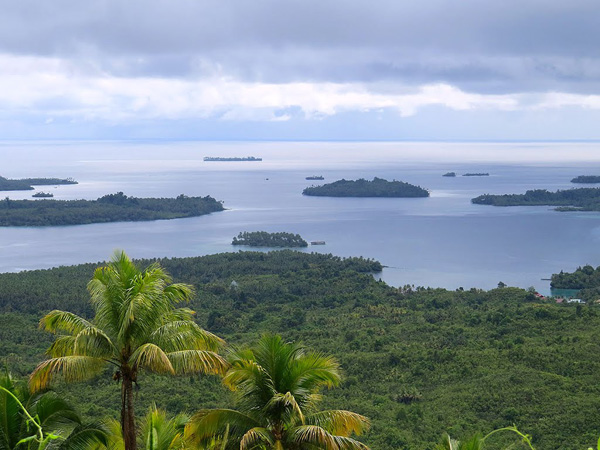 Kepulauan Banggai or Banggai archipelago is regency that belongs to Central Sulawesi and it settled in eastern part of Sulawesi. One of the famous islands in Banggai archipelago is Peling Island.
Not many people know the name of Peling Island. In fact, this pearl in the Banggai Islands saves an incredible natural charm. The transportation problem is still an obstacle to reach this small island, where it takes three hours, to find this place from Luwuk port, by takis Aldus boat. The Aldus is not too big. So, be ready to get jostle with other passengers while enjoying the splash of the sea water.
Peling Island, with an area of 2,340 square kilometers, is one of hundreds of islands in the Banggai Islands (Bangkep). The ocean view is incredible. The clear water and the palm trees that scattered everywhere is very stunning to be enjoyed. At this place, there is also a pool which is a sourced from springs. The view is still genuine and locals call it as Luwuk Panenteng spring, where the water is completely clear and it gives freshness.
To reach Banggai Islands, we need to use different types of transportation. When we start the journey by flight, the the trip begins with a flight from Soekarno-Hatta (Jakarta), or the airport Juanda (Surabaya) to the Sultan Hasanuddin Airport in Makassar, from Makassar, it followed by flights to airport Bubung Luwuk by using Batavia Airlines. From Kota Luwuk, to achieve Banggai Islands we using transport "timber ships" that regularly operating every day. If you want to imagine, "timber ships" is almost the same as the timber ship carrying passengers to Thousand Islands from Muara Angke estuary to Tidung Island.
Actually, there are two alternatives to choose to make the trip To Banggai Islands, the first route: Jakarta-Makassar-Luwuk, second route: Jakarta-Luwuk Palu. The second route will take longer than the first one because the departed from Cengkareng Airport to Mutiara Airport in Palu by using Batavia Air without transit. Then from Palu to the capital of Banggai Luwuk is taken by road (bus / vehicle chartered). The distance of Palu - Luwuk is about 350 km. From Luwuk to Peleng Island by using ferry is can be done approximately 3-4 hours' drive. While from Luwuk to Banggai Island by using wooden motor is taking between 8-12 hours.

Latest News
Palu City is the capital of Central Sulawesi Province. Geographically, Palu City is located on the plains of Palu valley and Palu bay so that its territory consists of five different landscapes such as mountains, valleys, rivers, bays, and oceans. Palu city has a beautiful hill called Bukit Perindu. The beauty of this hill always makes you miss the view of Palu. Always longing, as if the paragraph became a story, a charmer of the heart. Formerly the Perindu Hill called Sofa Hill was in Tanah Runtuh area. Lately it…
---
Togean Island Spread over a 90 km stretch in the middle of Tomini Bay, the winding, hilly coastlines and equatorial waters of the Togean Islands cast a magical spell of green, yellow and blue, in all the shades imaginable. The Togean or Togian Islands are an archipelago of 56 islands and islets, in the Gulf of Tomini, off the coast of Central Sulawesi, in Indonesia. The three largest islands are Batudaka, Togian, and Talatakoh. There are 37 villages on the islands. The dark green of the islands and the cristal…
---
Tolitoli Toli-Toli or Tolitoli regency is one of regencies in Central Sulawesi. The capital city is located in Tolitoli city. Under the Law no. 51 In 1999 this area is divided into two districts; Tolitoli as the parent district, and Buol District as a result of splitting the district. According to the folk legend, the name Tolitoli comes from the word Totolu, which means Three. Tolitoli nation comes from three heaven men who incarnates to earth through Olisan Bulan (Golden Bamboo), Bumbung Lanjat (Langsat Peak Tree), and Ue Saka (A…
---
Palu City Palu is a city and also the capital city of Central Sulawesi province. Palu is divided into 4 Sub-district and 43 Kelurahan or the smaller area, it officially divided into West Palu, East Palu, North and South Palu. The most inhabitant who live in Palu is the indigenous of Kaili People, and some of minor ethnics like Bugis, Sangir, Makassar, Banjar, or Javanese. Kaili tribe inhabiting hereditary Palu valley area, Parigi, Tomini Bay, and coastal Tojo, Ampana, and Poso. To state "the Kaili" it mentioned in the Kaili…
---