Yogyakarta - Jogjakarta
---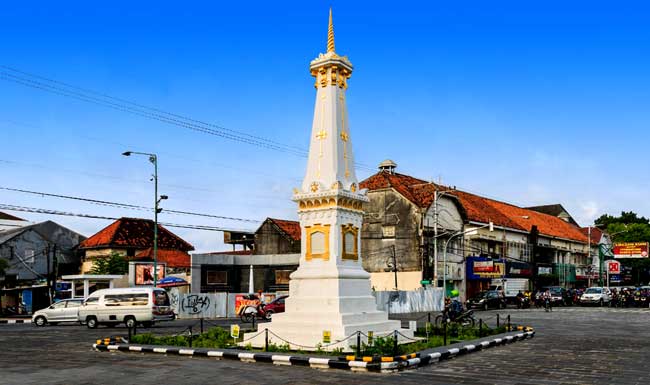 Yogyakarta Special Region (Daerah Istimewa Yogyakarta, DIY) is officially one of Indonesia's 32 provinces. Yogyakarta is one of the foremost cultural centers of Java. This region is located at the foot of the active Merapi volcano, Yogyakarta was in the 16th and 17th centuries the seat of the mighty Javanese empire of Mataram from which present day Yogyakarta has the best inherited of traditions. The city itself has a special charm, which seldom fails to captivate the visitor.
This province is one of the most densely populated areas of Indonesia. The city came into being in 1755, after the Mataram division into the Sultanates of Yogyakarta and Surakarta (Solo). Gamelan, classical and contemporary Javanese dances, wayang kulit (leather puppet), theater and other expressions of traditional art will keep the visitor spellbound. Local craftsmen excel in arts such batiks, silver and leather works. Next to the traditional, contemporary art has found fertile soil in Yogya's culture oriented society. ASRI, the Academy of Fine Arts is the center of arts and Yogyakarta itself has given its name to an important school of modern painting in Indonesia, perhaps best personified by the famed Indonesian impressionist, the late Affandi.
Yogyakarta is often called the main gateway to the Central Java as where it is geographically located. It stretches from Mount Merapi to the Indian Ocean. There is daily air service to Yogya from Jakarta, Surabaya and Bali as well as regular train service and easy accessibility by road. Yogyakarta is commonly considered as the modern cultural of Central Java. Although some may prefer Solo as a good runner up, Yogyakarta remains the clear front-runner for traditional dance, Wayang (traditional puppetry) and music.
Yogyakarta has more than just culture though. It is a very lively city and a shopper's delight. The main road, Malioboro Street, is always crowded and famous for its night street food-culture and street vendors. Many tourist shops and cheap hotels are concentrated along this street or in the adjoining tourist area such Sosrowijayan Street.
The key attraction of Yogyakarta is 'Kraton' (the Sultan's Palace). The Sultan's palace is the centre of Yogya's traditional life and despite the advance of modernity; it still emanates the spirit of refinement, which has been the hallmark of Yogya's art for centuries. This vast complex of decaying buildings was built in the 18th century, and is actually a walled city within the city with luxurious pavilions and in which the current Sultan still resides. Yogyakarta is also the only major city, which still has traditional 'Becak' (rickshaw-style) transport.

Latest News
LABUHAN KERATON NGAYOGYAKARTA Labuhan Keraton or the Royal Offerings of Yogyakarta is usually performed on the 30th of Rajab, so it will probably be hold on Thursday, 27 April 2017, at 07.00 am at the "Pendhapa" (Javanese Mansion) of Kretek Subdistrict Office. The Ngayogyakarta Royal servants transfer the vessels of the offering-implement to the Bantul Government. Then the offering-implement is delivered to the "Pendhapa" of Parangkusumo, and given to the caretaker to be arranged in "ancak" (the vessel made of bamboo). After the prayer fort it in "cepuri" (a supporting…
---
https://www.youtube.com/watch?v=218GWVk1pL4 Ratu Boko Palace is located in Jl. Raya Piyungan, 3 km south of Prambanan Temple at Dawung and Sambirejo villages, Piyungan, or 19 km east of Jogjakarta. It opens daily 6 am – 5.30 pm and it entrance fee charged. Ratu Boko Palace is a huge complex built on 16 hectares as the residence of King Boko of the first Mataram dynasty. Local legend says that Ratu Boko liked to eat human flesh. Primarily in ruins, visitors must use their imaginations to fill in historical and structural gaps. Gold…
---
Ratu Boko Temple Settled on a hillside plateau, overlooking Prambanan temple complex and with a view to Mount Merapi behind Prambanan Temple complex, lie the remains of a once grand palace. The palace (kraton) is named Ratu Boko after a King Boko of local folklore, but the real owner of the palace is more likely to have been a king of a local dynasty. Ratu Boko temple is located on a plateau, about three kilometres south of Lara Jonggrang Prambanan temple complex in Yogyakarta Central Java, Indonesia. Grand stone gates,…
---
To support the need of recreational things in Yogyakarta, the accommodation is also increase. In fact, there are numbers of star hotels and non-star hotels that ready to serve their specialties to comfort your stay. Hence, this Hotels In Yogyakarta is made. This application is kind of reference to provide the information and news for tourists that want to stay in Yogyakarta. There are numbers of Hotels and its description, and it can be accessed from iPad, iPhone and Android.  
---