Sepanjang Beach in Gunung Kidul Regency, Yogyakarta Special Region Province
---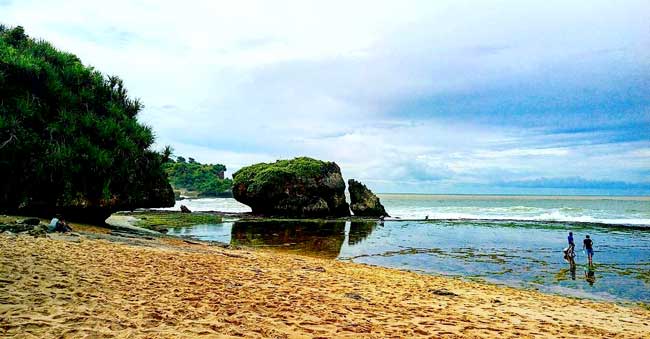 Here is another beautiful beach that resides in Gunung Kidul Regency of Yogyakarta Special Region. The name is Sepanjang Beach and it is located in Tanjungsari Sub-District. The exact location is in Kemadang Village, actually. The location is near to the famous Kukup Beach, so tourists can get there either after or before visiting Sepanjang. More nearby beaches are Drini, Watu Kodok, and Sanglen. One thing that makes it different is the similar beauty to Bali's Kuta Beach. No wonder, most people would enjoy sightseeing and photography there. The locals even used to call it Kuta Tempoe Doeloe Beach, which means the ancient Kuta beach.
The Nuance
The first noticeable feature is none other than the long shoreline with its beautiful soft-textured landscape. The name "Sepanjang" means lengthy, after all. It is even said Sepanjang Beach has the longest shoreline as compared to others. Next, the sea scenery is mesmerizing and the waves are moderate. During the low tide, several coral rocks are seen on the shoreline. On the other hand, during the high tide, seawater covers those rocks. Another impressive feature is definitely a clean and neat environment! No trash is seen on the site!
Exploring Sepanjang Beach
So, what can tourists do once arriving at Sepanjang Beach? It is as simple as relaxation. Thanks to the presence of small huts and gazebos with their straw roof. Tourists can sit and relax in it while watching the sea scenery. The warm air and soothing atmosphere of the coast comfort them too. For families who come with kids, they should explore the shoreline for beach walking. During the exploration, in fact, they would find small sea creatures like starfishes, clams, sea urchins, fishes, seaweeds, and much more!
It is true that relaxation becomes the best thing to do in Sepanjang Beach. Aside from having traditional gazebos, the beach also comes with "lincak" or bamboo chairs. This facility suits families or groups who want to hang out while watching sea panoramas, actually. It is even possible to conduct eating together, as long as tourists would take care of the trash later. No one is allowed to litter, after all. Don't forget to carry plastic bags to store the trash, therefore.
The next recommended thing to do in Sepanjang Beach is camping. The absence of villas and inns motivates tourists to build a tent and spend the night on the site. They must carry their tent and other equipment, though. At night, igniting a bonfire is a must. The nuance becomes merrier if they conduct a BBQ party too while camping. Once again, littering is prohibited!
Nearby Attractions

Watu Kodok Beach
Nglolang Beach
Jumpino Beach
How to Get There
The prime destination is indeed Yogyakarta City and tourists can get there fast by airplane, especially those who come from outside the region. For instance, a flight from Jakarta City (Soekarno – Hatta International Airport) would take around 1 hour and 10 minutes. Once tourists arrive at Adisucipto International Airport, they can simply take Nasional III Street and head to Sepanjang Beach right away, which is located in Kemadang Village. The distance is 60.9 km, so this trip may take around 1 hour and 25 minutes.
Where to Stay


Latest News
The Special Region of Yogyakarta is one of the provinces of Indonesia that has a lot of beauties, there are always new tourist attractions there. Not surprisingly, Yogyakarta has become one of the favorite tourist destinations for travelers, both local and foreign tourists. Especially at this time, tourism in Yogyakarta continues to develop to present tourist destinations that are worth visiting. In addition to the Kalibiru National Park, there are new tourist destinations in Yogyakarta that should on your to-do-list when traveling to Yogyakarta. Kalibiru National ParkKalibiru National Park is…
---
A towering tree inside Rancang Kencana cave in Bleberan Village, Playen District, Gunungkidul Regency, Yogyakarta Special Region. The tree is hundreds of years old. In 2003, a team of archaeologists from Gajah Mada University (UGM) conducted research on this tree. The results of his research, the tree is estimated to be about 300 years old. The big tree in the cave is called Klempit or Tlumpi. The Klempit tree bears fruit every rainy season. According to the local resident, the fruit of the tree can be eaten. The shape of…
---
Every waterfall always keeps a story. Including the Sri Gethuk waterfall in Bleberan Village, Playen District, Gunungkidul Regency, Yogyakarta Special Region. Many people call Sri Gethuk a beautiful waterfall. The water comes from a limestone embankment river that cuts rock cliffs to form a waterfall. The Sri Gethuk waterfall flows into the Oyo river. Often the rocks under waterfalls are also used for meditation. Usually meditating in the morning before many visitors come. The beauty of Sri Gethuk waterfall is already famous. Even the Sri Gethuk waterfall was once used…
---
When exploring Yogyakarta City, tourists should not forget to drop by in Prambanan Sub-District of Sleman Regency. Aside from offering beautiful temples, that area is also known for its Tebing Breksi or the Breccia Cliff. The exact location is in Sambirejo Village and it resides near to several famous temples like Prambanan, Ratu Boko, Candi Ijo, and Kalasan Temple. This majestic cliff is popular among tourists due to the excellent nuance and amazing landscapes, actually. No wonder, all visitors are likely to enjoy sightseeing and photography there. Some tourists also…
---