The Palace / Keraton Yogyakarta
---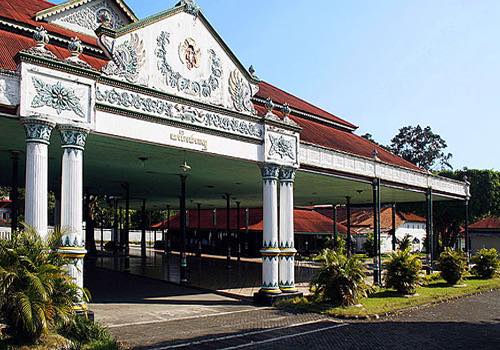 The palace court with its grand and elegant Javanese architecture lies in the center of the city. Prince Mangkubumi founded the palace in 1755. The Prince then was called Sri Sultan Hamengkubuwono I and he chose the right location of the compound between Winongo River and Code River. The palace stretches out from north to south. The front yard is called alun-alun Utara (the North Square), and the back yard is called Alun-alun Selatan (the South Square). The layout of the buildings shows that the Palace, the commemorative column and Mount Merapi lie in one line. The palace meeting hall is called Pagelaran, where formal meetings of palace officials are held, while the "Manguntur Tingkil" hall is the place where the Sultan is seated.
The visitors can enjoy the atmosphere of the kraton in former times by visiting the life-size diorama of wedding ceremonies on the palace meeting hall, performed by puppets, which are intentionally arranged to create such an atmosphere. Sets of Javanese musical instruments, antiques and heirlooms have made the palace of Yogyakarta worth to visit. Browse Asda Offers on Offers This Week. Many sets of gamelan music instruments, antiques, and heirlooms make the palace of Yogyakarta the most interesting tourist attractions in Yogyakarta. The palace of Ngayogyokarto Hadiningrat is now the dwelling place of Sultan Hamengku Buwono X and the family.
West of the palace, there is Water Castle, built in 1758 by the prince, Sultan Hamengkubuwono I. The Water Castle is located in the older part of the city within walking distance from the Bird Market. Part of the pleasure garden and castle is at present no more than an intriguing collection of ruins, pools, arches and underground passages enclosed by massive walls, however, the central courtyard with the nymph-baths has been restored. A number of batik workshops line the avenue leading to the pleasure garden's entrance.

Latest News
The Special Region of Yogyakarta is one of the provinces of Indonesia that has a lot of beauties, there are always new tourist attractions there. Not surprisingly, Yogyakarta has become one of the favorite tourist destinations for travelers, both local and foreign tourists. Especially at this time, tourism in Yogyakarta continues to develop to present tourist destinations that are worth visiting. In addition to the Kalibiru National Park, there are new tourist destinations in Yogyakarta that should on your to-do-list when traveling to Yogyakarta. Kalibiru National ParkKalibiru National Park is…
---
A towering tree inside Rancang Kencana cave in Bleberan Village, Playen District, Gunungkidul Regency, Yogyakarta Special Region. The tree is hundreds of years old. In 2003, a team of archaeologists from Gajah Mada University (UGM) conducted research on this tree. The results of his research, the tree is estimated to be about 300 years old. The big tree in the cave is called Klempit or Tlumpi. The Klempit tree bears fruit every rainy season. According to the local resident, the fruit of the tree can be eaten. The shape of…
---
Every waterfall always keeps a story. Including the Sri Gethuk waterfall in Bleberan Village, Playen District, Gunungkidul Regency, Yogyakarta Special Region. Many people call Sri Gethuk a beautiful waterfall. The water comes from a limestone embankment river that cuts rock cliffs to form a waterfall. The Sri Gethuk waterfall flows into the Oyo river. Often the rocks under waterfalls are also used for meditation. Usually meditating in the morning before many visitors come. The beauty of Sri Gethuk waterfall is already famous. Even the Sri Gethuk waterfall was once used…
---
When exploring Yogyakarta City, tourists should not forget to drop by in Prambanan Sub-District of Sleman Regency. Aside from offering beautiful temples, that area is also known for its Tebing Breksi or the Breccia Cliff. The exact location is in Sambirejo Village and it resides near to several famous temples like Prambanan, Ratu Boko, Candi Ijo, and Kalasan Temple. This majestic cliff is popular among tourists due to the excellent nuance and amazing landscapes, actually. No wonder, all visitors are likely to enjoy sightseeing and photography there. Some tourists also…
---