Gudeg Traditional Food of Yogyakarta Special Region
---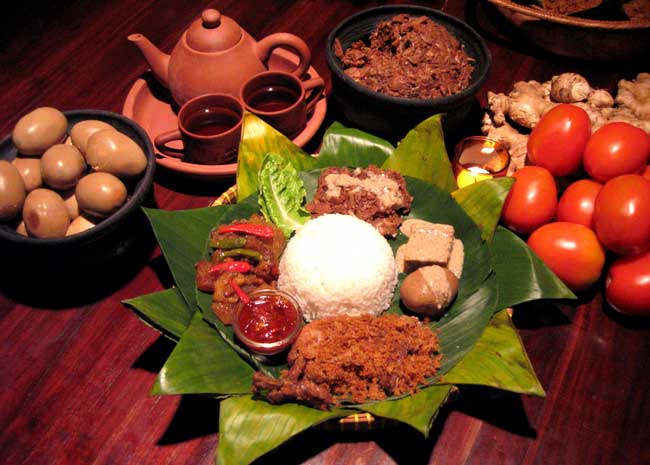 When people talk about Yogyakarta, they may think several things including the most famous traditional food called Gudeg. After all, visiting the region feels incomplete without buying this delicious sweet dish. The prime ingredient is young jackfruit and it uses lots of coconut milk as well. One thing, it takes lots of time to cook the dish. The brown color of the dish comes from teak leaves, used during the cooking procedure. The food also comes with rice and numerous side dishes like eggs, krecek, local chicken, and special dressing called Areh.
Where to Get It
Well, Gudeg is Yogyakarta's special food, so tourists can find it easily during the visit. This also explains why people call it the City of Gudeg. Visitors or tourists can get the food either at local eateries or restaurants. Some places are famous enough and have been recognized even by foreigners, in fact. These include Yu Djum, Hj Ahmad, Narni, and much more. People don't even need to get the help of a local guide to find the location. Lots of local people also sell Gudeg on the roadside and other strategic places. For the information, it is best to get the food in the morning where many local sellers operate.
More about Gudeg Traditional Food
Before hunting this unique traditional food, tourists must know several types of it first. Commonly, there are three types. The first one is called Gudeg Kering or the dry one. The dressing is denser and the jackfruit is darker. The second one is called Gudeg Basah or the wet one. The dressing is less dense and the jackfruit is paler. Another one is called Gudeg Solo that comes with a white dressing. All of the types come with similar side dishes including the rice, though. Not to mention it comes with spicy krecek.
As for the taste, Gudeg is indeed sweet but it also has a spicy taste due to the presence of Krecek. Aside from the unique taste, this food also comes with an excellent packaging. Usually, the sellers use a bamboo packaging but some others also use a clay kendil. For the best nuance to eat the food, though, tourists should find a nice place. Here is the reference. The area is called Wijilan and it resides near to Alun-Alun Utara Square. Also, it is recommended to visit it at night!
Well, tourists can also learn about the history of Gudeg when visiting Yogyakarta Special Region later. According to the locals, the food has been the part of the region since the first Batavia conflict. No official information is available, though. Tourists only know how unique and tasty the food is. No wonder, everyone won't miss to buy or try some while spending a vacation in Yogyakarta.
Nearby Attractions

Malioboro
Beringharjo Market
Kaliurang
Parangtritis Beach
Prambanan Temple
How to Get There
For outsiders, it is recommended to take an airplane in order to reach Yogyakarta City. It is the fastest method, after all. Here is an example. Tourists would take around 1 hour and 10 minutes if they come from Jakarta City (Soekarno – Hatta International Airport). Once they arrive at Adisucipto International Airport, they can simply find a local guide who can show the best places to buy and eat Gudeg. In this case, everyone should carry enough money to pay for the service and buy the food!
Where to Stay

Jayakarta Hotel
Greenhouse Boutique Hotel
Ambarukmo Hotel
Garuda Hotel

Latest News
LABUHAN KERATON NGAYOGYAKARTA Labuhan Keraton or the Royal Offerings of Yogyakarta is usually performed on the 30th of Rajab, so it will probably be hold on Thursday, 27 April 2017, at 07.00 am at the "Pendhapa" (Javanese Mansion) of Kretek Subdistrict Office. The Ngayogyakarta Royal servants transfer the vessels of the offering-implement to the Bantul Government. Then the offering-implement is delivered to the "Pendhapa" of Parangkusumo, and given to the caretaker to be arranged in "ancak" (the vessel made of bamboo). After the prayer fort it in "cepuri" (a supporting…
---
https://www.youtube.com/watch?v=218GWVk1pL4 Ratu Boko Palace is located in Jl. Raya Piyungan, 3 km south of Prambanan Temple at Dawung and Sambirejo villages, Piyungan, or 19 km east of Jogjakarta. It opens daily 6 am – 5.30 pm and it entrance fee charged. Ratu Boko Palace is a huge complex built on 16 hectares as the residence of King Boko of the first Mataram dynasty. Local legend says that Ratu Boko liked to eat human flesh. Primarily in ruins, visitors must use their imaginations to fill in historical and structural gaps. Gold…
---
Ratu Boko Temple Settled on a hillside plateau, overlooking Prambanan temple complex and with a view to Mount Merapi behind Prambanan Temple complex, lie the remains of a once grand palace. The palace (kraton) is named Ratu Boko after a King Boko of local folklore, but the real owner of the palace is more likely to have been a king of a local dynasty. Ratu Boko temple is located on a plateau, about three kilometres south of Lara Jonggrang Prambanan temple complex in Yogyakarta Central Java, Indonesia. Grand stone gates,…
---
To support the need of recreational things in Yogyakarta, the accommodation is also increase. In fact, there are numbers of star hotels and non-star hotels that ready to serve their specialties to comfort your stay. Hence, this Hotels In Yogyakarta is made. This application is kind of reference to provide the information and news for tourists that want to stay in Yogyakarta. There are numbers of Hotels and its description, and it can be accessed from iPad, iPhone and Android.  
---