Prawirotaman Street in Mergangsan Sub-District, Yogyakarta Special Region
---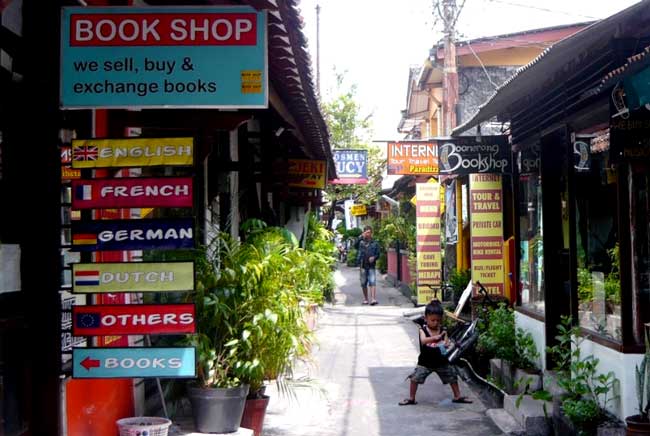 It is likely tourists would spend more than one day when visiting Yogyakarta City. The reason is they want to explore all the interesting parts of the region. As for the reference, there is Prawirotaman Street! The location is in Brontokusuman Village and it belongs to Mergangsan Sub-District. This area is known as the center of foreigners. No wonder, the locals call it Kampung Turis Internasional or International Tourist Village. In the past, it once became a base for local heroes and the center of batik industry! These days, though, lots of inns and small hotels operate in that location. No wonder, tons of foreigners often crowd the site, especially during holidays.
The Nuance
Due to the presence of lots of foreign tourists, Prawirotaman Street is considered crowded and merry. This nuance is somehow interesting. For the information, that area is also known as Gerilya Street. It is because the site was once used by local heroes to arrange plan during the war. It was called the base of Prajurit Hantu Maut. These days, tourists can only find several hotels and accommodations. At night, the nuance feels soother indeed. Lots of food vendors are also seen in this site.
Exploring Prawirotaman Street
The first thing to know about Prawirotaman Street is none other than the complete facilities. It is the center of inns, culinary, and entertainment. No wonder, both local and foreign tourists would gather in that area. Aside from hotels, the site also offers other facilities. These include cafes, restaurants, internet center, tour agencies, and much more. Not to mention a bookshop resides there, offering cheap products. Don't miss to visit several art shops that sell unique and beautiful items. Even tourists can get antiques there!
The next allure in Prawirotaman Street is related to history. Tourists only need to meet the locals and find further information related to the site. As for the name, it was derived from Kraton's nobleman called Prawirotomo. The palace gave him a plot of land in that area in the 19th century. Soon, it developed into the current attractive site. In order to hear complete information regarding history, though, tourists must find a local guide first before exploring the location.
The majority of people who live around Prawirotaman Street are able to speak the English Language! No wonder, foreigners can easily find information there. As for tourist activities, the best thing to do is to try local foods and snacks. Various types of foods are available, so everyone should try them all! One thing, some of these are quite expensive!
Nearby Attractions

Ahmad Dahlan Tomb
Perjuangan Museum
East Fortress Corner
How to Get There
Tourists should take advantage of an airplane service in order to reach Yogyakarta City, especially for those coming outside the region. From Jakarta City (Soekarno – Hatta International Airport), for example, their flight would take around 1 hour and 10 minutes. Once arriving at Adisucipto International Airport, tourists should take Majapahit Street or Ringroad Timur Street and head to Prawirotaman right away. As for the distance, it is 12 km. That means this trip takes only about 28 minutes.
Where to Stay

Duta Guesthouse
Grand Rosela Hotel
Perwita Sari Hotel
Prayogo Tiga Hotel

Latest News
LABUHAN KERATON NGAYOGYAKARTA Labuhan Keraton or the Royal Offerings of Yogyakarta is usually performed on the 30th of Rajab, so it will probably be hold on Thursday, 27 April 2017, at 07.00 am at the "Pendhapa" (Javanese Mansion) of Kretek Subdistrict Office. The Ngayogyakarta Royal servants transfer the vessels of the offering-implement to the Bantul Government. Then the offering-implement is delivered to the "Pendhapa" of Parangkusumo, and given to the caretaker to be arranged in "ancak" (the vessel made of bamboo). After the prayer fort it in "cepuri" (a supporting…
---
https://www.youtube.com/watch?v=218GWVk1pL4 Ratu Boko Palace is located in Jl. Raya Piyungan, 3 km south of Prambanan Temple at Dawung and Sambirejo villages, Piyungan, or 19 km east of Jogjakarta. It opens daily 6 am – 5.30 pm and it entrance fee charged. Ratu Boko Palace is a huge complex built on 16 hectares as the residence of King Boko of the first Mataram dynasty. Local legend says that Ratu Boko liked to eat human flesh. Primarily in ruins, visitors must use their imaginations to fill in historical and structural gaps. Gold…
---
Ratu Boko Temple Settled on a hillside plateau, overlooking Prambanan temple complex and with a view to Mount Merapi behind Prambanan Temple complex, lie the remains of a once grand palace. The palace (kraton) is named Ratu Boko after a King Boko of local folklore, but the real owner of the palace is more likely to have been a king of a local dynasty. Ratu Boko temple is located on a plateau, about three kilometres south of Lara Jonggrang Prambanan temple complex in Yogyakarta Central Java, Indonesia. Grand stone gates,…
---
To support the need of recreational things in Yogyakarta, the accommodation is also increase. In fact, there are numbers of star hotels and non-star hotels that ready to serve their specialties to comfort your stay. Hence, this Hotels In Yogyakarta is made. This application is kind of reference to provide the information and news for tourists that want to stay in Yogyakarta. There are numbers of Hotels and its description, and it can be accessed from iPad, iPhone and Android.  
---